When it rains, it pours, and that's not always a good thing – especially if your driveway isn't stormwater friendly.
From storing your vehicles to standing up against the elements, your driveway is an integral part of your residential or commercial property. And, since it is such a significant investment, you don't want to worry about whether or not it will flood during extreme storms. For this reason, it's time to make the switch to a stormwater-friendly concrete driveway.
Minnesotans understand the importance of water-friendly driveways that keep pollutants out of our lakes and rivers while also maintaining the health of our yard and foundation. While traditional paving materials can easily shed particles or contaminants into your yard and storm drains, stormwater-friendly concrete is a more eco-conscious alternative that also boosts curb appeal.
If you're sick of flooding and constant driveway maintenance, it's time to consider the benefits of installing a stormwater-friendly concrete driveway.
What Is a Stormwater-Friendly Concrete Driveway?
A stormwater-friendly driveway works with porous pavement systems to absorb water and drain it properly. While traditional asphalt and concrete driveways are composed of large aggregate material mixed with sand and fine fill gravel, more permeable alternatives create an efficient system to allow water to flow into a drainage layer that acts as a reservoir. 
Within this system, holes and voids in the supporting subbase capture and drain stormwater without wearing away the driveway material. This porous concrete material also provides better traction for vehicles, thanks to signature textured designs.
Since there are void spaces in permeable surfaces, they are prone to some settling underweight. For this reason, it's critical to use a skilled driveway paving contractor for proper installation.
How Does It Work?
Upgrading your driveway is simple, thanks to a straightforward evaluation and step-by-step checklist provided by Richfield Blacktop. Take a look at what to expect from the process below:
First, our registered and fully covered contracting company will assess your driveway to discern what kind of material you want to use and other key concerns to note. This consultation will include a written estimate for the job.
Next, in the two to four weeks before installation, our team will solidify all decisions, receive confirmation, schedule all details, pull necessary permits, and have all utilities located and marked for safety.
On day one, moving along to the installation process, will consist of removing the existing driveway and installing the appropriate sub-base.
In the following days, our team will pour the concrete, add any stormwater-friendly specifications, and then follow an initial curing period of a minimum of a week to strengthen the concrete.
After the initial curing period, you should be ok to drive vehicles over your new driveway safely. Confer with our team to find the best time to safely drive vehicles over your driveway. This way, you'll ensure the strength and durability of your new concrete driveway.
Finally, our team will help you create a maintenance plan.
Love the look of your new concrete driveway? Don't stop there! Ask our team about concrete patios, walkways, and more ways to boost curb appeal for your driveway.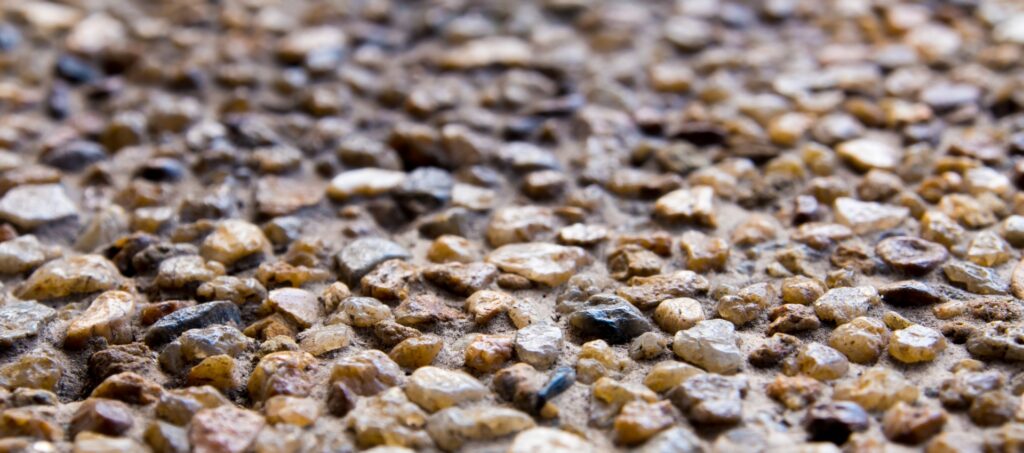 Benefits of Stormwater-Friendly Concrete Driveways
Selecting the best material for your new driveway can seem daunting, especially if you're trying to compare costs, annual maintenance, and many other features. Thankfully, there are many benefits of choosing concrete for your new driveway. Check out some of the reasons why your home needs a new stormwater friendly concrete driveway:
Reduced Chance of Flooding
Maybe in the past, you've experienced excessive flooding, washouts, and erosion of your driveway due to your driveway's material quality. If that's the case, you need a smarter pavement solution that collects excessive water and directs it away from your property. Even though there are many benefits to an asphalt driveway, they have one of the highest levels of stormwater runoff due to their sealant and structure. On the other hand, concrete driveways have significantly lower pollutant runoff which means it's a greener and more eco-friendly solution.
Cost-Effective
Even though there is a slightly higher installation cost, porous concrete is more durable, requiring less costly maintenance yearly. Additionally, you could end up preventing expensive water damage repairs since the material helps absorb more water and direct it safely away from your foundation. Also, concrete is built to last longer than asphalt. Furthermore, this versatile material is customizable to fit your home's aesthetic, which adds value to your property throughout the lifetime of your
Faster Snowmelt
Due to the cutting edge airflow and drainage system on the surface, snow and ice rapidly melt and drain away. This added bonus is perfect for Minnesotans since it reduces the risk of slippery surfaces and black ice formation. It also means that you'll need less deicing salt, which protects the integrity of your driveway and harmful chlorides from entering the environment.
Environmentally Friendly
Since harmful oils and other pollutants absorb easily into the porous texture, they are quickly broken down into less harmful substances and kept out of your yard, storm drains, and waterways. Additionally, unlike some traditional driveway materials, porous concrete doesn't require toxic chemical sealants. For the eco-conscious consumer, this is an attractive option that is not only eco-friendly but also serves as a smart and durable solution to preventing flooding from excessive stormwater.
Protect the Health of Your Yard
Eco-friendly concrete driveways allow conscious homeowners to reduce the amount of runoff into storm drains and reduce general flooding risks. Sadly, many traditional driveways don't allow proper water absorption; therefore, they act as direct conduits for pollutants to slide off and into the street. Types of contaminants commonly found in runoff include:
Fertilizer
Oil
Gasoline residue
Deicing salts
Other mineral buildups
Since driveways also often capture runoff from your gutter system, that could result in an even larger volume of runoff permeating your yard and flowing into the street. Over time with this repeated cycle, property owners end up paying significant amounts to replace lost driveway material alone.
It helps improve local water quality
Prevents pollutant runoff
Increases home value
Protects yard landscape
Slopes water away from the foundation
Any localized flooding from excessive runoff can lead to an overwhelmed sewage system. This potential issue is the last thing you want since it can back up into your basement.
Stormwater-friendly driveways are also durable and aesthetically pleasing. Many types last longer than traditional asphalt, require little maintenance, and even allow snow and ice to melt away faster.
Choosing concrete is the best choice for a better long-term driveway material to protect your home and neighborhood.
Upgrade to a Stormwater-Friendly Concrete Driveway Today!
If you want an entryway that's built to endure the harsh Minnesotan storms, it's time to consider a stormwater-friendly concrete driveway. That's because concrete driveways are cost-effective, eco-friendly, durable, and incredibly versatile.
At Richfield Blacktop, our team of experienced contractors strive to help you choose the best driveway payment for your unique needs. With over 60 years of proudly serving the Twin Cities community, our team at Richfield Blacktop is ready to provide you with competitive pricing, top-tier customer service, and the perfect pavement driveway for your property.
Contact us today to get a free, no-obligation consultation and see the difference a new and improved concrete driveway can make.