As summer rolls around, there is no better time to refresh your driveway and add some curb appeal to your home.
Welcome in visitors with an eye-catching concrete driveway that fills you with pride and even increases the resale value of your home. If you're looking to invest in a new concrete driveway, you have many ways to accentuate and upgrade the cohesive look.
Here are 7 ways to add curb appeal and make your home stand out.
1. Decorate With Plants
Plants are an excellent way to accentuate your driveway and add curb appeal, especially during the summer months. Try not to pick pieces that will overpower your driveway, especially if you have a short space to work with. Perennials are a great choice since they need only a little maintenance every year.
Once you figure out what kind of soil you have, how much sun exposure occurs, and whether you'd like to add potted plants, you can start adding some plants.
2. Stamped Designs
Incorporating stamped designs into your driveway is a simple way to add personality to your property without paying the price. Stamping design into your concrete is one of the most popular ways to achieve a unique look that resembles brick, slate, and other stones. A stamped design also eliminates the weed maintenance that occurs between traditional bricks.
Pick through a variety of stone and brick patterns, geometric designs, and contrasting layouts to see what you like best. You can even add different stains, pigments, and other agents that help compliment your home.
3. Stained Concrete
Are you looking for a way to incorporate your home's color scheme? If so, considering stained concrete is worthwhile. While classic concrete is stylish, stained concrete will reflect the architectural style of your home. Stains come in a variety of pigments and patterns, so you can find something for every look.
Have a rustic or ranch-style home? Try out an earth tone stain, or ask about antiquing agents.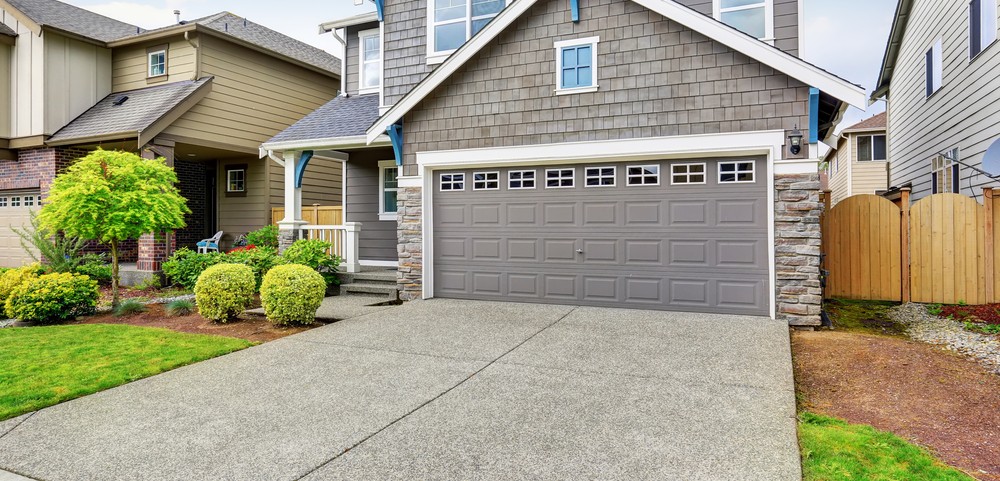 4. Add Some Texture
Incorporating texture into your driveway is the easiest way to add some dimension and personality in a budget-friendly way. One technique is called a broom finish. This can add nice fine lines to the grey surface.
By applying a finishing technique, you can give texture to traditional concrete slabs. Ask your contractor about other embellishments on a budget, such as an aggregate finish.
5. Upgrade Your Existing Concrete
Instead of having to completely redo your driveway, your existing concrete could just need a slight makeover. Taking time to update your existing concrete will help add longevity to your driveway.
You can engrave, add a stain, or resurface it with a concrete overlay to refresh its appearance.
How does it work? First, your contractor will complete an inspection of the existing concrete and aggregate. Afterward, special equipment is used to remove damaged parts and modify the rest. If you decide to resurface your concrete, you can have patterns set into whatever design you prefer.
6. Add a Decorative Statement
Since concrete design can be so versatile, it can even offer the opportunity to add personality. Do you want to add a decorative pattern or signature stamp? A decorative overlay can be engraved into your driveway to create an eye-catching focal point.
Ask your contractor about using stains and stamps to add this personal touch to your concrete driveway.
7. Don't Stop There!
If it works within your budget, think about replacing or upgrading your sidewalk and entryway as well. This will create a seamless transition into your home that fills you with pride.
Not only will it create a cohesive look, but it's also another great opportunity to use a complementary color scheme to your home.
Why Choose a Concrete Driveway
Even though asphalt may be cheaper to install, it doesn't allow for any modifications. It also unfortunately doesn't last nearly as long as concrete.
Not only do concrete driveways create a stunning and cohesive look, they also add increased value to your property. Let's take a closer look at some of the other reasons why to invest in a concrete driveway.
Durable, strong material
Cleaner than asphalt
Cooler temperature in the summer
Longer lifespan
Less maintenance
Doesn't warp or rutt
Cheaper alternative to stone slabs
As you can see, there are many benefits to choosing a concrete driveway to increase your home's curb appeal. With a lifespan of up to 50 years, it's easy to see why they are a good investment.
Don't forget all the unique finishes that you can apply to add some personality to your new driveway. Overlay, salt finish, brushed, etched, or stone simulated all create dimension and character to your space.
A Little About Us
Since 1954, Richfield Blacktop has been helping homeowners revitalize their property. As one of the best customer-rated paving companies in the Twin Cities, Richfield Blacktop is proud to provide any paving services you need. If you're looking to remodel your sidewalk, driveway, or entryway, consider hiring our contractors for the job.
We are so dedicated to your satisfaction that we even offer a driveway maintenance care guide and warranty programs ranging from 1-7 years. When it comes to an eye-catching, pride-inducing driveway, Richfield Blacktop is here to help. Don't just listen to us. Compare our rating with the Better Business Bureau among other companies in town.
Boost Your Home's Curb Appeal Today!
There is no better first impression of your home than a quality, eye-catching driveway. If you're looking to redo your space this year, consider all that concrete driveways have to offer. With the addition of stains, pigments, stamps, and etched designs, you can create a cohesive look that compliments your whole property. Plus, it can even boost your resale value! What are you waiting for? Contact Richfield Blacktop today to receive your free quote. Our team is ready to help revitalize your Minneapolis-St. Paul driveway.