There is nothing quite like the excitement of buying a new home. Sure, it may come with a laundry list of projects, but it also comes with the freedom to make any changes you'd like.
If you recently purchased a house and are wondering whether or not you should replace your driveway, you're not alone. Major home repairs add comfort to your home and increase the value of your property.
While it may seem tempting to replace an asphalt driveway completely, you may not necessarily need to. A total replacement is a time-consuming financial investment, so it's essential to consult a professional to find the best option available.
What Damages Asphalt Driveways?
A quality asphalt driveway can last 15-20 years with proper care and maintenance. Unfortunately, several things can wear down and discolor it over time. See some examples below:
Drastic Temperature Changes
Excessive Water Problems
Motor Oil
Vehicle Weight
If your asphalt driveway is looking less than ideal, it may be time to revitalize it. Read on to explore what asphalt driveway repair options you can choose.
Asphalt Driveway Repair Options
Did you know that there are terrific alternatives outside of a total driveway replacement? At Richfield Blacktop, we understand that each driveway has its own unique needs. That's why we offer several inclusive repair options that won't break the bank.
Instead of worrying about another hefty home repair, you could potentially save thousands by patching, edging, or resurfacing your driveway.
1. Patching Your Driveway
Are you looking for a great way to extend the lifespan of your driveway without breaking the bank? Consider asphalt patching. Patching is a relatively inexpensive solution to fix minor wear and tear throughout your driveway.
The patching process essentially fills in an affected area with new asphalt to create an even level. Read on to learn more about driveway repairs that use a patching technique.
Potholes
A pothole forms from a weakened structure beneath the asphalt. Over time, freezing temperatures and insufficient drainage build pressure and weaken the foundation under your pavement. When repetitive pressure from your vehicle is applied, it eventually causes your pavement to crumble.
Thankfully, patching a pothole can be a relatively quick and inexpensive fix if addressed early enough.
Small Cracks
The appearance of several small, non connecting cracks indicates wear and tear. Address these problem areas sooner rather than later to avoid more significant repairs.
Remember, making repairs will help prolong the lifespan of your driveway.
Divots & Sunken Areas
Another problem that patching resolves is uneven ground. If your driveway is starting to slump, particularly at the entrance to your garage, adding an asphalt patch levels the rough surface.
An infrared asphalt repair technique uses infrared technology to fix potholes, divots, cracks, and other blacktop issues. See how this environmentally conscious technique helps save you money and time.
2. Resurfacing Your Driveway
As long as your foundation is still intact, you can resurface your driveway. Resurfacing replaces the top layer of asphalt without needing to tear up each section individually.
It's an excellent option for those who don't like the look of patching but still want an affordable repair option.
Crumbling Edges
If you notice crumbling edges along your driveway, this is a good indicator that the driveway was originally too thinly paved. At this point, it's essential to consult a skilled driveway technician to see whether you need to resurface your driveway or add a protective edge.
3. Replacing Your Driveway
Not sure if you need to replace your driveway completely? Assess the situation and see if it has any of the issues listed below.
Clear Drainage Issues
Interconnected, Scale-Like Cracks
Over 20 Years Old
Combination of Repairs Needed
Multiple Potholes
Weak or Crumbling Foundation
Now, if you are planning on only living in your home for a short time, it's a good idea to replace it instead of making some repairs. That's because an eye-catching new asphalt driveway will help boost curb appeal and property value. Learn more about asphalt driveway prices to see which one is right for you.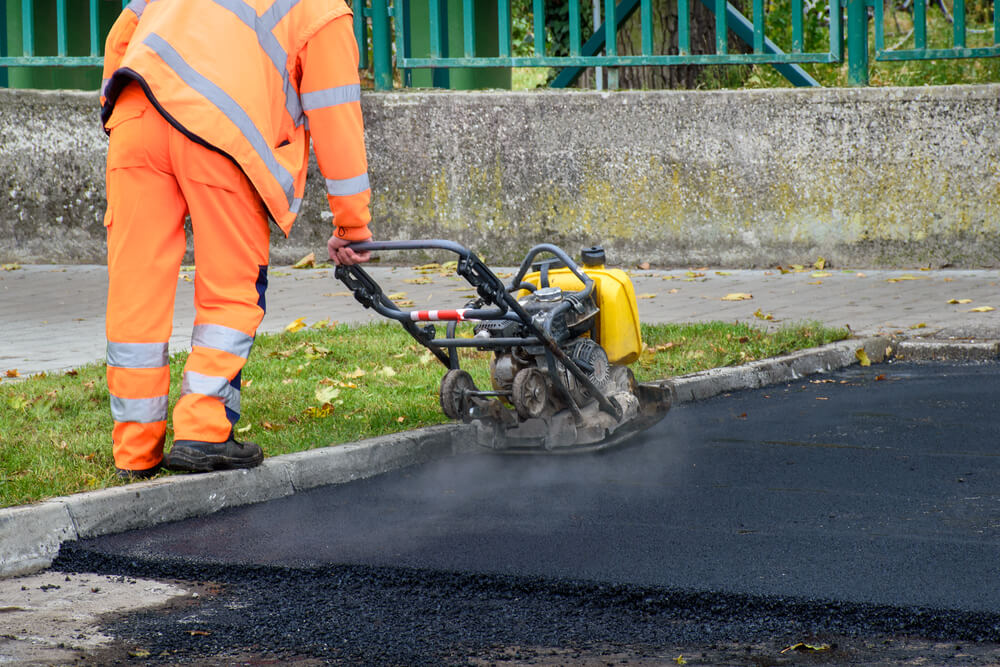 Give Your Driveway a New Look with Richfield Blacktop
Your driveway is the gateway to your home, and it must invite people in with ease. Unfortunately, potholes, divots, and crumbling edges are an eyesore that also poses safety concerns.
At Richfield Blacktop, we understand how big of a decision it is to modify your driveway. That's why we are happy to offer a free consultation and estimate to find the most cost-effective and wise investment for you. So whether you decide to patch, resurface, or completely replace your driveway, our skilled technicians have your back.
We take pride in offering our customers the highest quality service and products, including an asphalt protection plan for your new asphalt driveway.
Don't fret over having to replace your driveway thoroughly. Consult our asphalt driveway specialist today!