WOODBURY LAKE PAVING SERVICES
Homes, businesses, and commercial or industrial properties alike require a reliable paving partner to provide asphalt a
Woodbury home and business owners need a reliable paving partner for exceptional asphalt and concrete paving services, and Richfield Blacktop is here to help. Since the 1950s, our blacktop experts have been proudly serving the Woodbury community with beautiful and affordable blacktop driveways, walkways, and parking lots.
Whether you require repairs or a newly constructed driveway, our team will apply utmost care and attention to detail for every project to revitalize your property. So when it comes to choosing the right contractor for your paving services, turn to the professionals at Richfield Blacktop for a durable and attractive new pavement application. Contact us today to get your free estimate.
Discover Our Paving Services
Since curb appeal can significantly improve your property value, upgrading your weathered or crumbling pavement is financially and aesthetically beneficial. Our industry experts have the technical expertise needed to supply paving services, installations, repairs, maintenance, and everything in between. Explore some of our various paving services available to Woodbury residents:
Asphalt and concrete driveway installation, replacements, repairs, and maintenance
Concrete and asphalt maintenance plans for commercial properties
Commercial parking lot installations, repairs, and painting
Concrete sidewalk and stair installation
Concrete patio and porch construction for restaurants, hotels, homes, etc.
Decorative exposed aggregate designs
Asphalt Driveway Paving in Woodbury
Asphalt is one of the most popular paving choices among Minnesota homeowners. Not only is it durable and flexible, but it can also handle the extreme temperature changes and heavy vehicle traffic commonly encountered in Woodbury, MN. Another bonus of asphalt pavement is that it's budget-friendly and relatively low-maintenance. When you need repairs, you can make seamless patches with the Infrared Asphalt Repair (IAR) service.
On top of all those wonderful benefits, you can also rest assured that you are choosing an environmentally friendly material because asphalt is a recyclable material. For all these reasons, it's a smart choice to invest in this tried-and-true paving solution for your home or business. Get started on your new asphalt project today.
Woodbury Concrete Driveway Paving
Concrete is another excellent choice when it comes to your driveway. Whether you own a home or you're running a commercial or retail business, a concrete driveway can have an immense impact on your property's curb appeal. Concrete is a long-lasting paving material that can be stamped, cut, and dyed to suit your liking perfectly. Although the investment in a concrete driveway installation in White Bear Lake is more expensive than asphalt alternatives, the end result is worth the extra cost. Contact us today to request your estimate for a concrete driveway in White Bear Lake, MConcrete is another excellent choice for driveway, sidewalks, steps, and patios. Both commercial and residential properties can capitalize on the stunning and durable design that concrete possesses. This long-lasting material also allows for versatility because it can be custom cut, stamped, and stained to match any property's style. Even though concrete investment is more expensive than asphalt alternatives, it also lasts longer and adds immense value to your land. Contact us today to get your free quote for your gorgeous new concrete project.
Driveway Repairs
Although asphalt and concrete are incredibly solid materials, they aren't completely immune to the extreme weather conditions that are notoriously found in Minnesota. When your asphalt or concrete driveway gets damaged, you thankfully have affordable options for repairs. We offer fast, budget-friendly, and effective pavement repairs and replacements (if necessary). Just make sure to keep your eye out for the following common pavement warning signs:
Cracking
Crumbling
Bubbling
Uneven surfaces
Potholes
Pooling water
Dipping
Seasonal sun exposure
Weathering
Subsurface erosion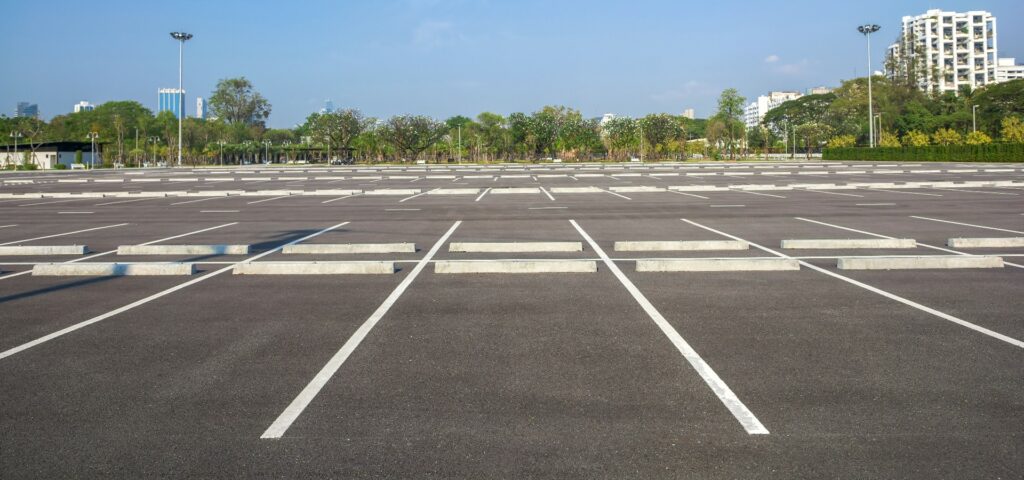 Woodbury Commercial Paving
We're proud to offer exclusive commercial paving services to the many businesses and industries within the greater Woodbury community. Whether you desire a new entryway for your apartment complex, parking lot for your shopping center, or finished flooring for your manufacturing shop, our team has you covered with industry-leading paving techniques and high-quality materials. Our commercial paving services are perfect for a range of facilities, including:
Office buildings
Schools
Churches
Transit terminals
Industrial facilities
Shopping centers
Apartment complexes
Parking structures
Additional Paving Services in Woodbury
Since asphalt and concrete are such flexible materials, they have a lot more applications than you may originally think. Both can be molded to pave different areas throughout your property to boost curb appeal. Check out some other ways you can utilize these paving services for your Woodbury estate:
Stairways
Walkways
Porches
Curbs
Recreational courts
Finished garage floors
Decorative paving
Patios
Sidewalks
Get Started With Exceptional Woodbury Paving Services
There is no better time to upgrade your driveway with durable and attractive new asphalt or concrete paving services from Richfield Blacktop. Whether you want a signature new patio, sleek new walkway, or anything in between, our industry-trained paving experts can help you boost your curb appeal with our exceptional services. In addition, we will help you cultivate your commercial or residential property with a long-lasting and affordable solution that you can enjoy for years to come. Contact our team today to learn more about our many paving options and to get started on your paving next project.