WHITE BEAR LAKE PAVING SERVICES
Homes, businesses, and commercial or industrial properties alike require a reliable paving partner to provide asphalt and concrete paving services. In White Bear Lake, Minnesota, Richfield Blacktop is the one to call. Our White Bear Lake paving company has been proudly operating for over half a decade, supplying the Twin Cities with fast, seamless, and budget-friendly paving services. Our team of highly skilled paving professionals is industry trained to provide your home, business, or any other property with the best paving services in White Bear Lake, MN. Contact us today to get your free quote for driveways, sidewalks, patios, staircases, and so much more.
Our Paving Services
Since opening our doors in 1954, our team of accomplished paving professionals has completed projects spanning nearly 8.5 million square feet of asphalt and concrete. We have experience working with commercial and residential property owners and areas of all sizes, supplying paving services, including installations, repairs, maintenance, and more. We offer a range of valuable paving services in White Bear Lake, such as:
Asphalt and concrete driveway installations, maintenance, and replacements
Concrete sidewalk and stair installations
Finished concrete garage floor installments
Concrete patio and porch construction for homes, hotels, restaurants, and more
Decorative exposed aggregate solutions
Commercial parking lot installations, painting, and repairs
Concrete and asphalt maintenance plans for commercial properties
Asphalt Driveway Paving in White Bear Lake
Asphalt is probably our most popular paving material selected amongst homeowners. There are many reasons to choose this particular type of pavement for your home or business. Asphalt is durable and flexible, withstanding heavy vehicular traffic and fluctuating temperatures common in White Bear Lake. What's better is that you don't have to worry about much maintenance with asphalt pavement as it's incredibly simple to make seamless patches with Infrared Asphalt Repair (IRR). Asphalt is also a recyclable material, making it an environmentally choice for your driveway. This tried-and-true paving solution is a durable, affordable option that lasts when you need driveway paving in White Bear Lake.
White Bear Lake Concrete Driveway Paving
Concrete is another excellent choice when it comes to your driveway. Whether you own a home or you're running a commercial or retail business, a concrete driveway can have an immense impact on your property's curb appeal. Concrete is a long-lasting paving material that can be stamped, cut, and dyed to suit your liking perfectly. Although the investment in a concrete driveway installation in White Bear Lake is more expensive than asphalt alternatives, the end result is worth the extra cost. Contact us today to request your estimate for a concrete driveway in White Bear Lake, MN.
Driveway Repairs
Asphalt and concrete pavement are incredibly solid materials, but these surfaces aren't entirely immune from issues, especially in a harsh, cold climate like White Bear Lake, Minnesota. When your concrete or asphalt driveway becomes damaged, don't worry. We can offer quick, efficient, and affordable pavement repairs or entire replacements when necessary. Simply watch out for the following common pavement conditions to determine if it's time to think about driveway repairs in White Bear Lake:
Cracking
Buckling
Crumbling
Dipping
Potholes
Pooling Water
Uneven Surfaces
Seasonal Sun Exposure
Sub-surface Erosion
General Weathering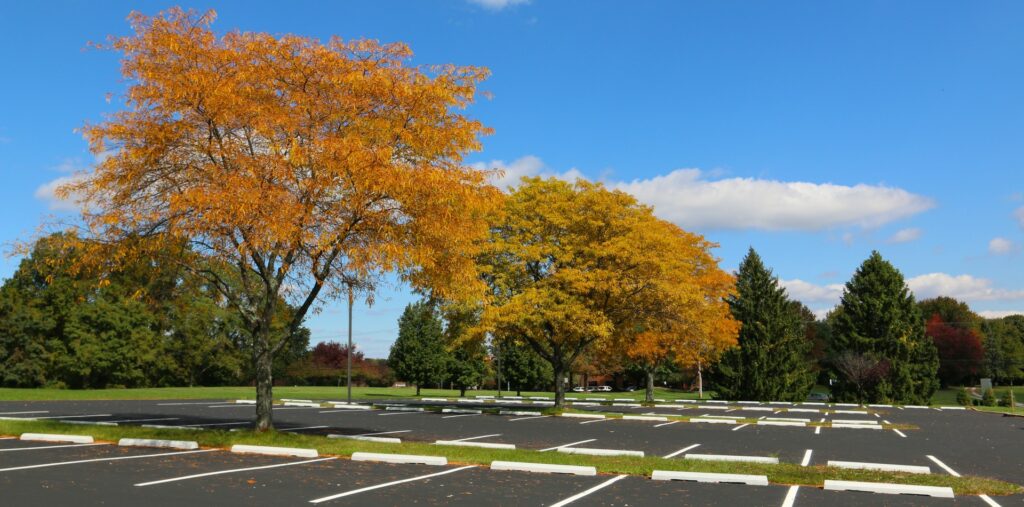 White Bear Lake Commercial Paving
We're proud to offer our premier White Bear Lake paving services to commercial and industrial entities too. Whether you need a new parking lot for your apartment complex, an entryway to a retail shopping center, or finished flooring for your manufacturing facility, we've got you covered with high-quality commercial paving in White Bear Lake. Examples of the types of facilities and operations we often work with include:
Parking Structures
Schools
Shopping Centers
Apartment and Condominium Complexes
Industrial Facilities
Transit Terminals
Churches
Office Buildings
Additional Paving Services in White Bear Lake
Concrete and asphalt pavements have a lot more applications than you might think. We can utilize either to pave many different areas and add value to your home or commercial property. Our additional paving services in White Bear Lake include paving the following structures:
Walkways
Stairways
Sidewalks
Patios
Curbs
Porches
Finished Garage Floors
Decorative Paving
Recreational Courts
Top-Rated Paving Services in White Bear Lake
Outlast the harsh, unpredictable winters of the Midwest with a durable asphalt driveway. Or, add value and curb appeal to your residential or commercial property with a brand new concrete path or driveway. Whatever your paving needs are, our experts know how to get the job done right. With our industry-trained pavement specialists and outstanding customer service, you can count on your commercial or residential pavement to look near perfect for years to come. Contact our team of top-rated pavers in White Bear Lake today to learn more about the many options and benefits of our affordable asphalt and concrete paving services.