WEST ST. PAUL PAVING SERVICES
When you need fast, reliable, and affordable paving services for your home, business, or a commercial operation, Richfield Blacktop is the company to call. We're a team of highly skilled paving contractors in West St. Paul, providing asphalt and concrete paving services at budget-friendly prices.
From asphalt driveway repairs and finished concrete floors to an entire commercial parking lot installation, we've got you covered with the best paving services in West St. Paul, Minnesota. Learn more about our wide range of asphalt and concrete solutions below before requesting a quick online quote.
Premier Paving Services
Since we opened our doors in 1954, Richfield Blacktop has laid the foundation for over 8.5 million square feet of asphalt and concrete for property owners in Minnesota. Our vast experience, industry-leading equipment, and up-to-date professional training allow our team to provide the most exceptional asphalt and concrete paving in West St. Paul and the surrounding Twin Cities metropolitan area.
We strive to supply your home or business with affordable solutions and attractive paved surfaces. Some of our most popular paving services in West St. Paul include:
Asphalt and concrete driveway installations, maintenance, and replacements
Concrete sidewalk and stair installations
Finished concrete garage floor installments
Concrete patio and porch construction for homes, hotels, restaurants, and more
Decorative exposed aggregate solutions
Commercial parking lot installations, painting, and repairs
Concrete and asphalt maintenance plans for commercial properties
Asphalt Driveway Paving in West St. Paul
Asphalt driveway pavement is incredibly popular among home and business owners in West St. Paul and the surrounding Twin Cities for its affordability and ease of installation. In addition, asphalt driveways require minimal maintenance, and repairs are simple, so you can always keep your property's curb appeal.
We recommend asphalt driveways in West St. Paul because they're durable, withstanding the various kinds of unpredictable weather conditions commonly encountered in Minnesota. Additionally, asphalt materials are flexible and can readily handle heavy vehicular traffic and freeze-thaw cycles throughout the winter months. Make an excellent choice for your property and go with an asphalt driveway from the experts at Richfield Blacktop.
West St. Paul Concrete Driveway Paving
Here at Richfield Blacktop, we are also proud to offer a wide range of concrete paving services to West St. Paul residents and business owners. Although an initial concrete installation cost is slightly higher than asphalt alternatives, it's still an excellent investment. With proper care and maintenance, concrete can last as long as 50 years for your home or business. Choose from attractive colors, unique stampings, and more to make your concrete driveway dreams come true.
Driveway Repairs
Though asphalt and concrete are both incredibly durable, there is always a chance that these materials fail with age or become damaged due to adverse weather conditions. If you begin to notice cracks, crumbling, or an uneven surface on your driveway, we're here to help. We offer driveway repair services in West St. Paul, so you can say goodbye to aggravating and unsightly driveway pavement issues, including:
Cracking
Buckling
Crumbling
Dipping
Potholes
Pooling Water
Uneven Surfaces
Seasonal Sun Exposure
Sub-surface Erosion
General Weathering
Don't wait for the damage on your home or business's driveway to get out of hand, requiring a total replacement of your pavement. Instead, act quickly when you notice driveway damage and call the most trusted driveway paving company in West St. Paul.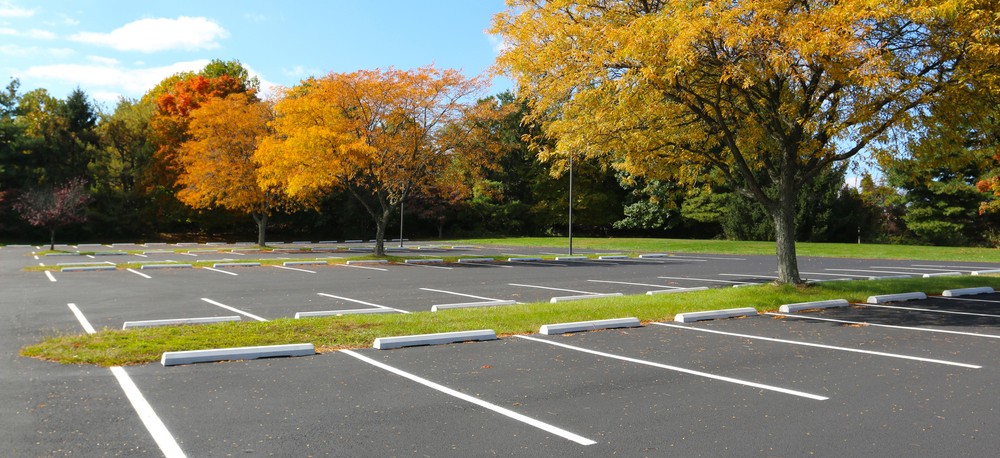 West St. Paul Commercial Paving Services
We're proud to provide our exceptional paving services to more than just homeowners in the Twin Cities. We offer commercial concrete and asphalt paving services in West St. Paul, so your business or organization's property can look its best all year long. Examples of the establishments we provide commercial services for include:
Parking Structures
Schools
Shopping Centers
Apartment and Condominium Complexes
Industrial Facilities
Transit Terminals
Churches
Office Buildings
Whether you're running a retail boutique, local small business, school, or another commercial enterprise, you must ensure that your paved surfaces are correctly installed and safe for use. We work with commercial clients of all sizes and industries, supplying affordable commercial paving in West St. Paul. We can help establish and maintain several attractive concrete and asphalt structures on your commercial property, including:
Parking Lots
Staircases
Footpaths and Walkways
Roadway and Driveway Surfaces
Recreational Courts
Asphalt won't easily break down, but it will remain flexible as temperatures fluctuate, making it an ideal pavement choice for commercial properties with heavy vehicular and pedestrian traffic. Concrete pavement is also a perfect solution for commercial property owners who want to install walkways, patios, outdoor staircases, and more. Add value to your enterprise with our outstanding range of professional commercial paving services in West St. Paul.
Additional Concrete Services in Stillwater
Residential, municipal, and commercial properties that need concrete repairs, replacements, and full installations can count on Richfield Blacktop. We provide a variety of concrete services in addition to driveways, so you can depend on our services to suit your needs.
Patios
Steps
Walkways
Curbs
Porches
Garage floors
Decorative paving
Your Stillwater Paving Partner
For over sixty years, Richfield Blacktop has provided outstanding asphalt and concrete paving services to commercial and residential property owners in Stillwater. Our friendly team will help you choose the paving service that best suits your needs and budget, no matter the size or scope. The experts on our team prioritize going above and beyond to meet your needs, whether it's repairs, replacement, or a new installation. Richfield Blacktop aims to create memorable experiences and build lasting relationships with all of our Stillwater customers.