ST. ANTHONY PAVING SERVICES
Richfield Blacktop is proud to provide expert paving services to customers in St. Anthony, Minnesota. We find affordable and lasting paving solutions for residential homeowners and commercial property or business owners. Richfield Blacktop is happy to assist you with all of your asphalt and concrete paving needs. From installations and replacements to repairs and maintenance plans, St. Anthony residents can benefit from our expertise.
Richfield Blacktop works with commercial and residential property owners in St. Anthony, Minnesota. We offer various services, everything from simple driveway installs to commercial parking lot repairs. With years of combined experience on our team, Richfield Blacktop is the best St. Anthony paving company for all of your paving projects.
Our team knows how critical it is for your concrete and asphalt surfaces to withstand the harsh weather conditions sometimes found in St. Anthony and the surrounding areas. We will assess your property then provide a thorough plan to ensure your property has the most reliable and durable paved surfaces possible.
Our Services
Richfield Blacktop is the right place to call when you need reliable St. Anthony paving services for your home or business. We are happy to take on various commercial and residential paving projects, and we also offer repairs, installations, maintenance, upgrades, and replacements. Richfield Blacktop will help you put together a comprehensive pavement care plan for the annual maintenance of your paved surfaces. Our experienced team of paving experts will assist you throughout the process and answer any questions you may have. Working with Richfield Blacktop will always result in a beautifully paved surface on your property, and you will be happy you invested. Our service offerings include:
Asphalt and concrete driveway replacement
Concrete sidewalk, step, and garage floor installments
Decorative exposed aggregate concrete
Parking lot pavement projects
Commercial pavement services
St. Anthony Asphalt Driveway Paving
Winters in St. Anthony, Minnesota can be challenging for everyone, but especially for your driveway pavement. Thankfully, Richfield Blacktop is happy to provide you with a durable, long-lasting solution. Our asphalt driveways can outlast the harshest Minnesota winters and even the hot and humid summers.
St. Anthony, Minnesota is known for fluctuating temperatures in the fall and winter months. Asphalt is a durable and flexible pavement material that can flex with temperature changes. Its dark color also helps snow and ice to melt quickly off the surface. The environmentally friendly material also can take on the heavy strains of trucks, RVs, boats, vehicles, and anything else you want to park on your driveway. Overall, asphalt driveways are an excellent choice for any property owner in Minnesota.
Richfield Blacktop can help you with any issues that arise with your asphalt driveway. We offer residents of St. Anthony driveway repairs at a competitive price so that you can fix any driveway issues right away without cost concerns. If you're ready for a new asphalt driveway installation in St. Anthony, Minnesota, then give us a call. Richfield Blacktop looks forward to providing high-quality paving services to St. Anthony residents and property owners.
St. Anthony Concrete Driveway Paving
Asphalt is not the only choice available to homeowners and commercial property owners, though it is often the most popular. Concrete driveways, however, can also be a great option. They are an excellent investment and provide a more traditional feel. Richfield Blacktop provides St. Anthony with concrete driveway installations, repairs, and maintenance, all at a competitive rate.
Concrete driveways are known to be durable and look beautiful for years to come. They are a more expensive investment upfront, but it's a worthwhile one. Richfield Blacktop can install concrete driveways in various colors, stampings, and textures to match your home and neighborhood's style. Having these options makes concrete a little more versatile than asphalt, which can't be personalized. A beautiful concrete driveway will boost your property value. If you're ready for a long-lasting concrete driveway, give us a call today.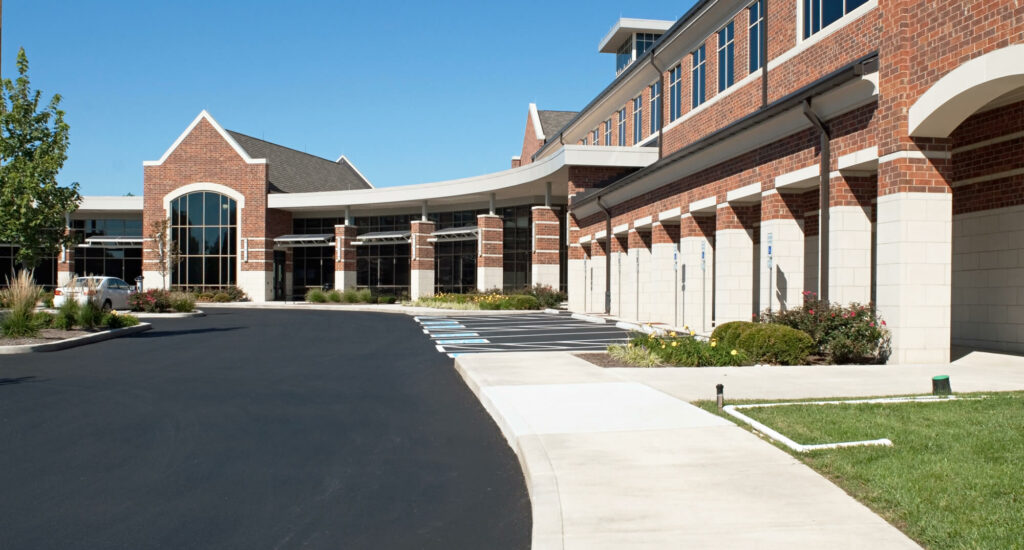 Commercial Asphalt Services
Richfield Blacktop is not just limited to residential paving services. We are also a leading provider of commercial paving services in St. Anthony, Minnesota and the surrounding areas. Our experienced team knows how crucial it is to work efficiently and quickly in commercial settings, whether for repairs, installation, or maintenance. Richfield Blacktop offers industry-leading paving services at a budget-friendly cost for retail locations, government buildings, apartment parking lots, and other commercial settings. We will work quickly and make sure you're involved in every step of the process so that you can get the best St. Anthony paving services possible.
Richfield Blacktop will ensure you have a comprehensive property assessment before we recommend the best course of action. Then we will install, replace, or repair your paved surfaces so that customers and clients can start using them in no time. We offer expertly paved surfaces for various commercial establishments, including:
Parking lots
Schools
Shopping and retail centers
Apartment complexes and condos
Warehouse and truck shipping terminals
Churches
Manufacturing facilities
Office buildings
Richfield Blacktop Driveway Repairs
Neither asphalt nor concrete is immune from issues even though they're both incredibly durable paving materials. Pavement breakdown can include cracks, potholes, pooling water, and slanted or uneven surfaces. Property owners have to deal with these issues and must act quickly to repair them before the problems get out of control. Richfield Blacktop is always available to assist St. Anthony residents and property owners with driveway repairs. Our paving contractors will help you with fast and affordable repairs that won't hurt your budget. We use industry-leading technologies to get your driveway back to its original condition. Richfield Blacktop assists with repairs for the following:
Networks of cracks
Buckling pavement
Potholes
Dipping pavement and pooling water
Weathering from sun and wind exposure or winter weather
Additional Concrete Services
Richfield Blacktop offers a variety of additional concrete services, aside from our driveway installations. Concrete is a durable and beautiful paving material that will improve your home's property value and give your curb appeal a boost. We offer creative concrete solutions for malls, schools, churches, and residential properties. Richfield Blacktop can assist in paving the following concrete surfaces:
Walkways
Patios
Stairways/steps
Curbs
Porches
Finished garage floors
Decorative paving
Trusted St. Anthony Paving Services
Richfield Blacktop employs a team of highly skilled professionals for every paving project. St. Anthony residents trust our services and customers love how affordable our prices are. We have provided commercial and residential services to businesses and homeowners for over sixty years. Whether you choose asphalt or concrete, Richfield Blacktop has you covered for an affordable and reliable paving service.