When you need asphalt or concrete paving services for your home or business, Richfield Blacktop is the right Roseville paving company to call. We offer expert commercial and residential paving services at prices that won't hurt your pockets. Whether you need repairs, maintenance, installations, or a total overhaul of an existing paved surface, our highly skilled team of paving technicians can take on the task.
Whether you need practical paving solutions for a commercial parking structure or simply need a new asphalt driveway on your residential property, Richfield Blacktop can help. We have years of experience amongst our highly skilled team of paving professionals, making us the preferred choice for commercial and residential customers alike.
When working with Richfield Blacktop, you'll receive outstanding customer service and durable, reliable paving services that withstand the harshest types of Minnesota weather. We utilize high-quality materials and top trusted techniques to ensure that you have a positive paving experience with Richfield Blacktop. Don't let your asphalt crumble away winter after winter. For fast, affordable, and long-lasting paving solutions in Roseville, rely on Richfield Blacktop.
Our Services
We are a Roseville paving company offering several exceptional asphalt and concrete paving services for residential and commercial properties. We take on projects such as preparing annual driveway and parking lot repairs or maintenance plans, new installations, and many more miscellaneous asphalt and concrete paving services. Our highly trained experts are here to assist you every step of the way during any residential or commercial paving project. Some of our service offerings include:
Asphalt and concrete driveway replacement
Concrete sidewalk, step, and garage floor installments
Decorative exposed aggregate concrete
Parking lot pavement projects
Commercial pavement services
Asphalt Driveway Paving in Roseville
Winters in Minnesota can be cold and miserable, but what makes them that time of year truly the worst is due to what it does to your driveway. Cold, fluctuating temperatures can take a hefty toll on an asphalt driveway after a few years, and you will inevitably need driveway repairs. When you notice damage to your home or business's driveway, like cracks, dipping, or uneven pavement, Richfield Blacktop is the right number to call.
We proudly provide expert Roseville driveway installations and repairs. Despite the damage that unpredictable Minnesota weather can cause, asphalt is still always our number one recommendation for residential driveways. Asphalt is an incredibly durable material with a longer lifespan when appropriately maintained. Richfield Blacktop can assist you in crafting an annual asphalt maintenance plan as well.
Another excellent quality of asphalt is its flexibility. Asphalt can undergo a lot of strain from heavy vehicular traffic before becoming damaged. You don't have to worry about parking your boat, RV, or other large vehicles for extended periods with a professional asphalt driveway installation.
Asphalt is an environmentally friendly material that also offers other benefits. Otherwise known as "blacktop," asphalt is very dark in color. The dark coloration of asphalt allows snow and ice to melt more quickly as it attracts sunlight. Quality asphalt installations are affordable and easy, so you don't have to break the bank to have a beautiful driveway. Don't wait until you're the last one in the neighborhood with a nicely paved asphalt driveway. Call Richfield Blacktop for Roseville driveway installation services and save.
Concrete Driveway Paving
Asphalt is a leading option for driveway paving materials, but it's not the only choice for residential and commercial property owners. You can install a concrete driveway easily with help from the experts at Richfield Blacktop. We offer concrete driveway installation in Roseville at competitive prices.
Concrete is a larger investment upfront, but it can have many benefits in the long run. Concrete is a classic choice and vastly improves the curb appeal of both homes and businesses. Concrete driveways come in various colors, stampings, textures, and other stylistic options to suit anyone. If you find that the expense is worth it to boost your property value, call the best choice in Roseville concrete driveway installations: Richfield Blacktop.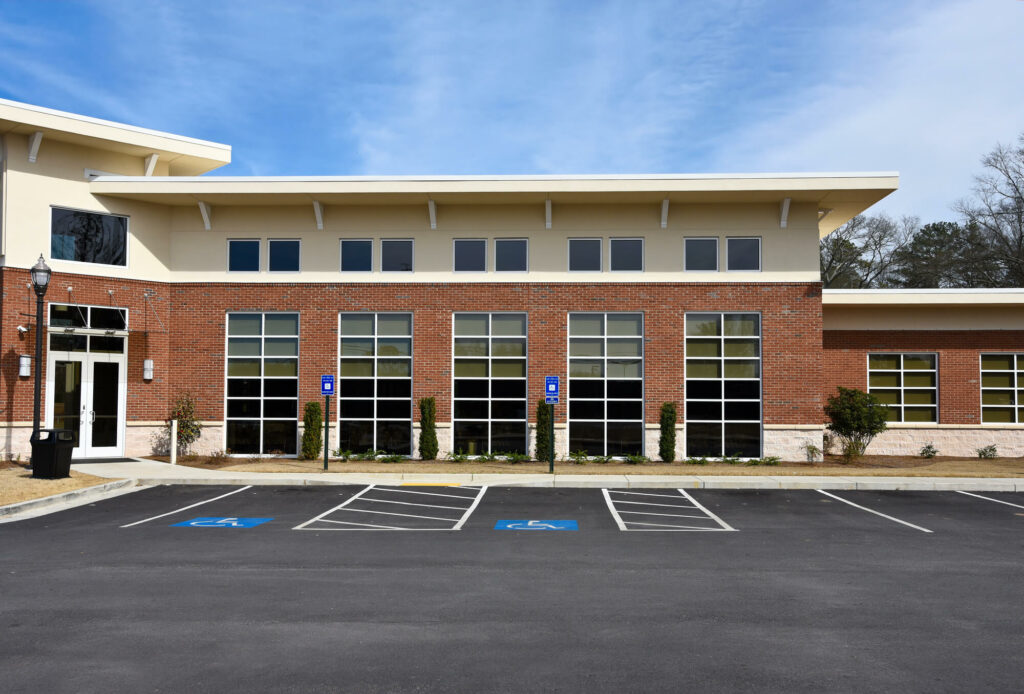 Commercial Asphalt Services
Richfield Blacktop not only provides the best residential paving services in Roseville but commercial paving services as well. Our experts work fast and stay on budget, so you don't ever have to worry about added stress in your busy workday. When you have questions and concerns regarding your current commercial paving project, our team members are always at your disposal to address the issues. From retail properties to commercial lots and government buildings, we bring affordable commercial asphalt paving services to the Roseville area.
Call us today to learn more about how Richfield Blacktop can help bring your commercial property's pavement up to par. We assess existing surfaces and supply the proper recommendations for the next steps. Then, we make your commercial asphalt and concrete look as good as new. We work within a wide range of industries, providing paved surfaces for commercial properties, including:
Parking lots
Schools
Shopping and retail centers
Apartment complexes and condos
Warehouse and truck shipping terminals
Churches
Manufacturing facilities
Office buildings
We Deal With Driveway Repairs
Although asphalt and concrete are both durable and reliable driveway materials for residential and commercial properties, they are not immune from issues. During their lifetime, driveways are subject to tons (literally, tons) of wear and tear. Cracks, potholes, pooling water, and uneven pavement are all definitive signs of driveway lot damage. Homeowners must act quickly when driveway damage occurs to ensure that it does not become too extensive. Richfield Blacktop offers Roseville residents expert driveway repairs at affordable rates.
Our team of industry-leading professionals has years of experience between them and can fix your damaged driveway in no time. We deal with the heavy lifting, so you have nothing to worry about during the driveway repair process. We utilize driveway repair techniques that can solve any of the following pavement problems:
Crack networks
Buckling or dipping pavement
Potholes
Low spots of pooling water
Weathering or winter weather damage
Don't hesitate to take care of driveway damage the first time signs of breakdown emerge. Holding out on fixing your damaged driveway can result in costly repairs. Keeping up on annual maintenance and working with a professional driveway repair company like Richfield Blacktop ensures that your paved surface will endure a long lifespan.
Additional Concrete Services
Richfield Blacktop provides a wide range of unique paving services to various entities in Roseville, Minnesota, and the surrounding area. We don't limit our offerings to just driveways and parking lots. Our experts can provide so much more to Roseville residents and business owners. Whether you need a beautiful new concrete patio for your budding restaurant or want to add a porch to your family's home, the professionals at Richfield Blacktop can always help. Contact us to find out more about all of the additional concrete services Richfield Blacktop has to offer.
Installing concrete can improve your home's curb appeal or boost a commercial property's value. When you're ready to get started installing, repairing, or building a comprehensive maintenance plan for any of the following paved surfaces, give Richfield Blacktop a try:
Walkways
Patios
Stairways/steps
Curbs
Porches
Finished garage floors
Decorative paving
Reliable Roseville Paving Services
For over sixty years, Richfield Blacktop has served Roseville residents and business owners with reliable and, most importantly, affordable commercial and residential paving services. Our experts are highly skilled and utilize industry-leading techniques like infrared asphalt repair to provide a seamless, stress-free paving process.
We are a Roseville paving company that you can trust to help eliminate the headache of asphalt driveway repairs, parking lot installation, maintenance planning, and so much more. Next time you notice failing pavement in your parking lot or damage to your home's driveway, don't wait until the issue is out of control. Call the experts at Richfield Blacktop for outstanding service at the best prices.