Richfield Blacktop is the number one name in asphalt and concrete paving services in the Richfield, Minnesota, area. Our Richfield paving company has over sixty years of experience installing, repairing, and maintaining residential and commercial asphalt surfaces. Our expertise spans from parking lots to long-lasting driveways. Whatever paving services you need, Richfield Blacktop is the best option for your home or business.
Our concrete and asphalt paving solutions are strong, durable, and reliable. We offer everything at exceptional prices, so you never have to worry about breaking the bank with your next asphalt or concrete paving service. We strive to offer the most outstanding customer service and highest quality concrete and asphalt paving services in Richfield. Stay informed throughout your project with helpful information from our highly experienced paving professionals.
Don't wait until your asphalt surface is crumbling away. Whether you need commercial parking lot paving or have a simple residential paving project, Richfield Blacktop can provide you with expert solutions every time.
Our Services
Our Richfield Paving company offers a wide range of asphalt and concrete paving services for both residential and commercial clients. Whether you need to schedule an annual driveway repair or want to install a commercial parking lot, look no further than Richfield Blacktop to assist in your every need.
Richfield Blacktop offers several services to residents and commercial business owners in Richfield and the surrounding areas. The asphalt and concrete service we supply include:
Asphalt and concrete driveway replacement
Concrete sidewalk, step, and garage floor installments
Decorative exposed aggregate concrete
Parking lot pavement projects
Commercial pavement services
Asphalt Driveway Paving in Richfield
Cold weather can wear down a driveway really fast if you don't perform regular maintenance and repairs. Richfield Blacktop makes it easy to install and maintain a beautiful blacktop surface on your residential property, even under the harshest of circumstances common in Minnesota winters. Asphalt is our number one recommendation for Richfield residents for its durability and flexibility. Asphalt is super strong and will stand up to weight from vehicular traffic and parked vehicles like boats, RVs, or other large items that are commonly owned by Minnesotans.
One little known fact is that asphalt is one of the most recycled materials in the world. This makes asphalt a wise choice for those who are environmentally conscious. You can continuously mix in old asphalt with new to create a quality asphalt surface that is still affordable and easy on the environment. Asphalt is a long-lasting solution that allows you to keep extra money in your pocket.
Asphalt is often referred to as "blacktop" because of its dark coloration. Asphalt's dark color is actually an advantage, as it attracts sunlight, letting ice and snow melt much more quickly. This perk of asphalt is perfect for Richfield homeowners. Call us today to learn more about why we always recommend asphalt as the best driveway paving material preferred by most homeowners in America.
Concrete Driveway Paving
Although asphalt is one of the most popular choices among homeowners for driveway paving materials, concrete is an excellent option as well. Commercial and residential driveways have a more traditional feel when paved with concrete. Concrete can elevate the look of your property and improve curb appeal. Call the best Richfield concrete paving company at Richfield Blacktop for fast installations and outstanding service.
It's important to note that concrete can have a much higher price tag than asphalt upfront. Although the cost is more expensive initially, it is still an excellent investment since concrete driveways boost property values. Another great thing about concrete is that it comes in a wide breadth of colors, textures, and stampings to suit any homeowner's style. Create a stunning entryway to your home with a concrete driveway from Richfield Blacktop.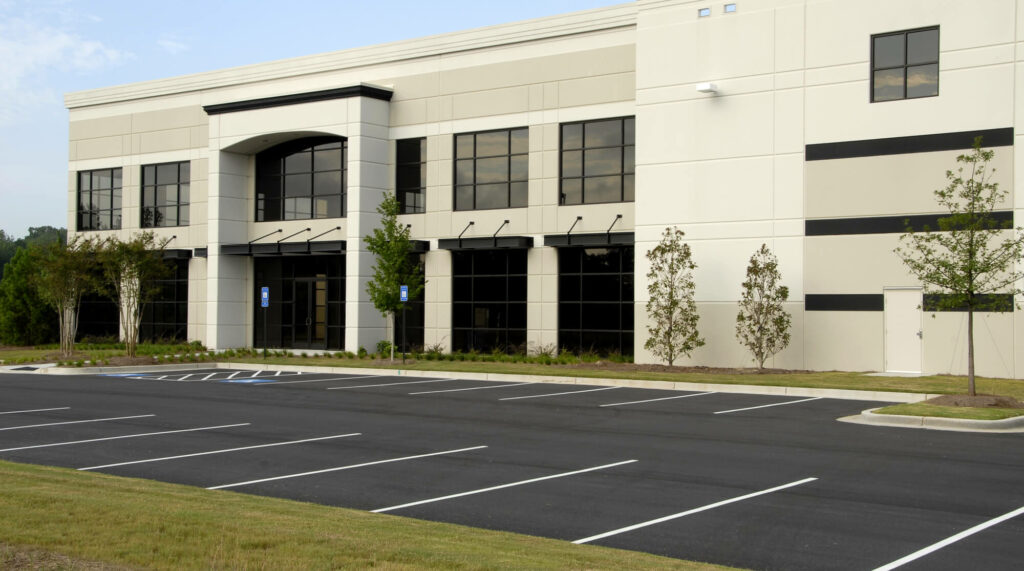 Commercial Asphalt Services
We proudly provide commercial asphalt paving services in Richfield, Minnesota. Our competitive pricing makes Richfield Blacktop a top contender for your commercial paving provider. We offer fast, professional, and most importantly, affordable asphalt paving services for businesses, government entities, municipalities, and other commercial enterprises. From new parking lot construction to pavement repairs on your commercial property, Richfield Blacktop is the best Richfield paving company to call.
Our team of highly qualified paving professionals will assess your property's existing paved surfaces and provide recommendations moving forward. We pride ourselves on total transparency throughout the paving process, answering any questions and addressing concerns you may have during your commercial paving project. We work with paved surfaces for commercial entities, including:
Parking lots
Schools
Shopping and retail centers
Apartment complexes and condos
Warehouse and truck shipping terminals
Churches
Manufacturing facilities
Office buildings
Does Your Driveway Need Repairs?
Many homeowners in Minnesota make the mistake of letting driveway repairs and maintenance move to the back burner. When driveway damage emerges, it's best to take care of it right away to ensure that the issues don't become more extensive. Cracks, potholes, sunken areas, and pooling water are all signs of driveway damage known to occur, especially in colder climates like Minnesota. When you notice the warning signs of driveway damage, don't wait; call the experts at Richfield Blacktop for fast and affordable Richfield driveway repairs.
There are hundreds of years of experience between all our experts, so Richfield Blacktop can easily find a solution to your problem at its core. We utilize innovative repair technologies like infrared asphalt repair to fix residential driveways (as well as roadways and other commercial sites). Our Richfield driveway repair company works efficiently and always leaves you with a beautiful end result. Call us today to repair:
Crack networks
Buckling or dipping pavement
Potholes
Low spots of pooling water
Weathering or winter weather damage
Don't wait until it's too late to repair your residential asphalt driveway. Signs of driveway breakdown like cracks and potholes can be dangerous, cause damage to your vehicles, and will only get worse without the proper care. Avoid even more headaches and stress by simply calling Richfield Blacktop for your next driveway repair.
Additional Concrete Services
Richfield residents rely on Richfield Blacktop for expert concrete services, including installations, repairs, and maintenance. But we offer so much more than that, too. Call today to learn more about all of the unique ways our team can take your commercial or residential property to the next level with top-quality concrete solutions.
Improve your home's curb appeal or add value to your commercial property with our assortment of concrete paving services. We can supply you with repairs, installations, repairs, and even comprehensive maintenance plans for various paved surfaces:
Walkways
Patios
Stairways/steps
Curbs
Porches
Finished garage floors
Decorative paving
Richfield's Best Paving: It's in the Name
Richfield Blacktop has proudly served the Richfield area for over sixty years. We are the number one Richfield paving company to call when you need residential or commercial paving services. After all, it is in our name. Our highly-trained team of paving experts provides asphalt and concrete paving services at an affordable price, making us Richfield's preferred choice in paving company.
Whether you need minor repairs for cracks in your residential driveway or have a large commercial job like a parking lot, Richfield Blacktop has you covered. We implement industry-leading techniques, using innovative tools like infrared asphalt repair (IIR) to make your paving project go as smoothly as possible. For the fastest, most reliable paving services in Richfield, both commercial and residential, make the right call and go with Richfield Blacktop.