Richfield Blacktop offers industry-leading asphalt and concrete paving solutions to property owners across the North St. Paul area. With over 60 years of experience and nearly 8.5 million square feet of paving materials put down, we've easily become one of the Twin Cities' top trusted paving companies. We are proud to provide North St. Paul with paving services including installations, repairs, and replacements for residential and commercial properties alike. When you experience our top of the line customer service and exceptional asphalt and concrete paving solutions, you'll quickly understand why Richfield Blacktop is the preferred North St. Paul paving company.
We know that each new project we take on comes with its own unique set of challenges. That's why we strive so hard to provide the most reliable, durable, and attractive asphalt and concrete paving solutions for North St. Paul property owners. Our highly skilled experts will work with you every step of the way to alleviate all of the stress surrounding a new construction project. We prioritize open lines of communications so we can always address any questions or concerns you may have throughout the paving project's duration. Whether you need a new driveway for your home or need to re-pave an existing commercial parking lot, Richfield Blacktop will be there to provide you with expert paving services every time.
Services
North St. Paul homeowners, business owners, and municipalities all know to call Richfield Blacktop for professional paving services at an exceptionally affordable price. Whether you want to install a small, simple walkway or need an expansive parking lot to accommodate your customers, we can find the perfect paving solution for your North St. Paul property. At Richfield Blacktop, we are proud to produce beautiful, long-lasting asphalt and concrete surfaces. Our service offerings include:
Asphalt and concrete driveway replacement
Concrete sidewalk, step, and garage floor installments
Decorative exposed aggregate concrete
Parking lot pavement projects
Commercial pavement services
Asphalt Driveway Paving in North St. Paul
Like the rest of the Midwest, Minnesota is not immune to the unpredictable weather that comes with wintertime. Many North St. Paul properties undergo a brutal beating in the colder months, and even if you are prepared for the harsh conditions yourself, your asphalt driveway probably is not.
We highly recommend asphalt driveways to all our North St. Paul customers because this material can take a serious beating throughout the winter season. Asphalt driveways are an attractive option because it's an incredibly flexible material that can withstand a mountain of pressure. Asphalt driveways are the perfect solution for homeowners with huge, heavy vehicles like RVs, boats, trucks, or tractors. When well-maintained, asphalt won't flex or crack under heavy vehicular traffic, so you can count on your asphalt driveway to last all winter long without any issues.
Asphalt driveway installation in North St. Paul can provide property owners with other advantages as well. The dark hue of asphalt driveway materials, often referred to as blacktop, retains heat, making it easier for ice and snow to melt away. Asphalt is also one of the world's most commonly recycled materials, so it is an incredibly environmentally friendly solution for your home or business.
Another attractive bonus that asphalt driveways bring to North St. Paul home and business owners is its affordability. Richfield Blacktop is a leader in the local paving industry and is proud to provide durable asphalt driveway solutions that last for years. Our experts will inform you of all the necessary maintenance during installation to ensure that your asphalt driveway goes the distance. Avoid expensive repairs or replacement of your asphalt driveway with a well-constructed maintenance plan. Our highly-trained paving experts utilize innovative technology to provide durable asphalt driveway services to North St. Paul residents.
Concrete Driveway Paving
Asphalt is an incredibly durable and practical paving solution, but it's not your only option. Concrete is another popular paving material that many of our North St. Paul customers choose for their driveway.
If you desire a more traditional design for your driveway, concrete is an excellent choice. The sturdy paving solution is known to last for an incredibly long time, requiring minimal maintenance and repair. A new North St. Paul concrete driveway installation can be a significant upfront expense, but your return on investment will make this option worth your while. Concrete driveways immensely improve curb appeal and add substantial value to your North St. Paul property. Plus, our professional concrete driveway paving services will be sure to leave a lasting impression on friends, family, neighbors, and other guests.
Richfield Blacktop is a North St. Paul paving company that offers a staggering selection of unique and attractive concrete driveway styles. From fun stampings and eye-catching colors to a fresh new finish, we can help create the concrete driveway of your dreams. If you're in need of a new driveway, concrete pavement is the perfect addition to your property.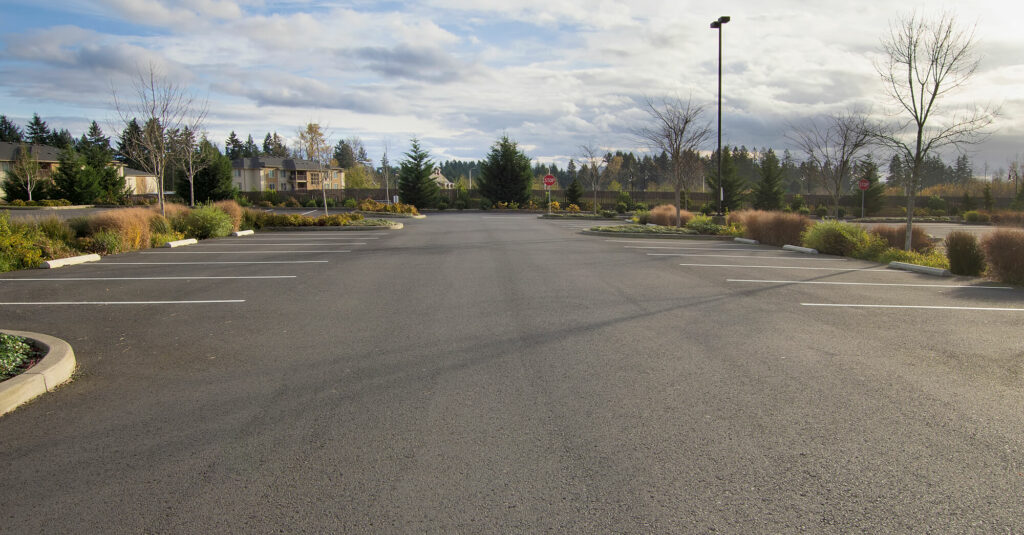 Commercial Asphalt Services
Richfield Blacktop is a North St. Paul paving company supplying commercial asphalt solutions to local businesses. We proudly serve the North St. Paul area with high-quality asphalt paving services. Our offerings include asphalt installation, repairs, and total replacements. We can tackle commercial paving projects of any size, so give us a call today to assess the needs of your property and find precisely the right solution. Our experts provide an open line of communication throughout the duration of your commercial paving project, so you can always have access to up to date information about the project's progress. Richfield Blacktop provides North St. Paul businesses with commercial asphalt paving solutions for:
Parking lots
Schools
Shopping and retail centers
Apartment complexes and condos
Warehouse and truck shipping terminals
Churches
Manufacturing facilities
Office buildings
Does Your Driveway Need Repairs?
Cracks, potholes, and pooling water are all signs that your driveway probably needs repairs. Although driveway paving materials are incredibly durable, many factors can cause damages to occur. If you notice these issues affecting your concrete or asphalt driveway, call the number one trusted name in North St. Paul driveway repairs. The experts at Richfield Blacktop are at the ready to assist in minimizing existing driveway damage using industry-leading pavement repair techniques. We have extensive experience in repairing the following driveway problems:
Networks of cracks
Buckling pavement
Potholes
Low spots where water pools
Winter weathering
Don't wait until it's too late; call Richfield Blacktop and take care of driveway damage right away. Sprawling networks of cracks, sunken pavement, and potholes are all surefire signs of an unstable driveway subsurface. The experts at Richfield Blacktop will try to salvage your existing driveway; otherwise, we can always assist in a total driveway replacement using durable driveway paving materials like asphalt and concrete.
Additional Concrete Services
Why limit ourselves to just driveways and commercial parking lots when we can do so much more? Richfield Blacktop offers an extensive array of attractive and affordable concrete solutions for homes and stores throughout North St. Paul. We assist with concrete installations, repairs, maintenance, and replacements of:
Walkways
Patios
Stairways/steps
Curbs
Porches
Finished garage floors
Decorative paving
North St. Paul's Preferred Paving Partner
Over the past 60 years, Richfield Blacktop has proven itself as North St. Paul's preferred paving partner. Our concrete and asphalt contractors can take on any challenge and provide you with beautiful blacktop solutions. We strive to supply high-quality asphalt and concrete paving solutions for commercial and residential properties throughout North St. Paul. From driveways and sidewalks to full-blown parking structures, Richfield Blacktop has you covered with the best concrete and asphalt paving solutions at a budget-friendly cost. Call Richfield Blacktop today to get started on the road towards an attractive asphalt or concrete surface.