Richfield Blacktop provides high-quality asphalt driveway paving and other concrete, blacktop, and pavement services throughout the New Hope, Minnesota area. For over 60 years, we've been a trusted name, offering our signature paving services to residential and commercial clients in the Twin Cities. We've laid over 8.5 million square feet of paving material across the North Star State through installations, repairs, and replacements, so it's easy to see why people use Richfield Blacktop as their preferred partner over other paving companies in the area.
Our top priority is to provide beautiful, long-lasting paved structures for all of our customers. We understand that each paving project has unique requirements and can pose significant challenges. The experts at Richfield Blacktop know precisely how to alleviate any pain points during installations, repairs, or replacements. Whether you need a new driveway or want to pave your garage floor, our paving company is here to provide you with outstanding customer service and durable pavement solutions for your property.
Trust the experts at Richfield Blacktop to provide you with around the clock service during your next paving project in New Hope. Your local asphalt contractor will always be available to address any concerns and answer questions you may have about the process. We strive to provide complete transparency and open communication throughout the entirety of your project. Richfield Blacktop is proud of the persisting relationships we've built across New Hope and the rest of Minnesota by providing fast, friendly paving services to commercial and residential clients. When you work with us, you're guaranteed an exceptional asphalt or concrete paving experience.
Our Signature Paving Services
Richfield Blacktop provides premier paving services to residences, businesses, and municipalities in the New Hope area. Whether you need minor repairs on existing asphalt and concrete surfaces or require an entire asphalt parking lot installation, we have affordable, high-quality solutions for your property. Our experts take time to assess your needs and understand the usage requirements of your paved surface. We take a comprehensive approach to our projects, only providing pavement solutions that best fit your needs. Richfield Blacktop provides expert installations, repairs, maintenance, and more to properties throughout New Hope. Our signature paving services include:
Asphalt and concrete driveway replacement
Concrete sidewalk, step, and garage floor installments
Decorative exposed aggregate concrete
Parking lot pavement projects
Commercial pavement services
Asphalt Driveway Paving
If you've lived in Minnesota for a long time, you're likely more than used to the unpredictability of our weather patterns. Winters are cold and harsh, and they pose a significant threat to your driveway. Temperature fluctuations and lingering moisture can create costly damage on your driveway. We recommend asphalt driveways for Minnesota homes as they are an incredibly durable option. Asphalt is an exceptionally flexible material, so it easily stands up to the fluctuating temperatures of Minnesota. Additionally, asphalt's strength and flexibility allow it to withstand the weight of heavy traffic from cars, boats, RVs, and other large vehicles often owned by New Hope's residents.
There are other advantages to installing asphalt driveways on your New Hope property. Asphalt allows snow and ice to melt quickly due to its dark color, making it the perfect paving solution for frigid Minnesota winters. It's also an environmentally friendly option since asphalt is recycled easily for a variety of alternative uses.
For an affordable pavement option for your property's driveway choose asphalt. Richfield Blacktop is a New Hope paving company offering budget-friendly installation of long-lasting asphalt materials, so you don't need to be concerned about excessive, costly repairs in the future. When you choose Richfield Blacktop for asphalt driveway installation in New Hope, you know you're getting a long-lasting product for the best price.
Concrete Driveway Paving
If asphalt paving doesn't suit your preference, another solid paving choice is concrete. Concrete materials have gained popularity in paving across the country because they offer immense durability and add exceptional value to your home's curb appeal. The cost of concrete is slightly higher upfront, but it's an excellent investment if you're planning on selling your New Hope, MN home in the future. A concrete driveway will add significant resale value to your property when you decide to put it on the market.
Concrete driveways are a surefire way to impress any visitors as they arrive at your home. Richfield Blacktop offers a broad range of unique concrete driveway styles, stampings, colors, and finishes for homeowners to choose from to create a beautiful concrete driveway. The added expense of concrete paving is entirely worth it when you see how appealing it makes your property look. Call the paving experts at Richfield Blacktop for fast, affordable concrete driveway installation in New Hope.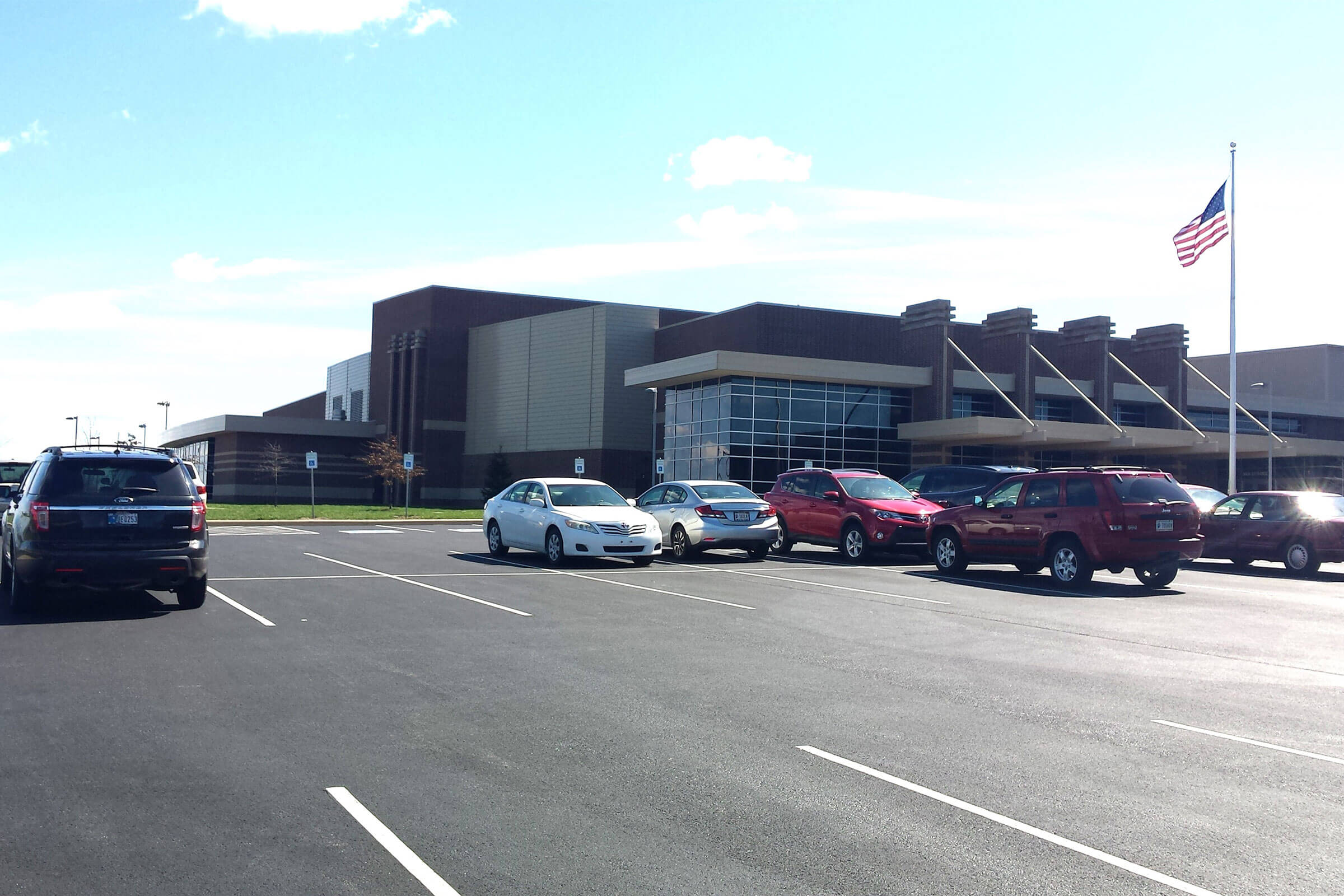 Commercial Asphalt Services
For over half a century, Richfield Blacktop has provided industry-leading asphalt services to commercial properties and municipalities across New Hope and the surrounding areas. Call Richfield Blacktop for high-quality asphalt paving services, including replacements, repairs, maintenance, and installations. Whether you need to pave a large surface area like a parking lot or only need minimal maintenance to your commercial property's existing structure, Richfield Blacktop has the perfect commercial paving solutions for your business.
We've provided innovative solutions to businesses and municipalities in New Hope for over 60 years. Our top of the line asphalt installations, repairs, and replacements are a fantastic solution for commercial clients of any size. You can count on us to offer complete transparency and comprehensive communication throughout your commercial paving project. We've completed a wide variety of commercial paving projects in the New Hope area, including:
Parking lots
Schools
Shopping and retail centers
Apartment complex and condos
Warehouse and truck terminals
Churches
Manufacturing facilities
Office buildings
Does Your Driveway Need Repairs?
Asphalt and concrete are incredibly durable paving materials. However, if you notice any damage to your driveway, it might be time for a driveway repair. Cracks, potholes, low spots, and caving can all appear on your driveway's surface. If you notice these issues arising, give Richfield Blacktop a call. We'll quickly assess the damage, make recommendations for repairs, and provide solutions to ensure no further problems ensue. Richfield Blacktop specializes in repairing pavement impacted by:
Cracking
Buckling
Potholes
Low spots where water accumulates
Cold-weather damage
Damage to your driveway can seem endless if you wait too long to contact a paving professional. Excessive potholes, cracking, and caving can all severely impact the subsurface of your driveway. For fast, affordable driveway repair in New Hope, MN, give Richfield Blacktop a call.
Additional Concrete Services
Aside from asphalt pavement solutions, Richfield Blacktop offers a variety of concrete paving services as well. We provide concrete installations, repairs, maintenance, and replacements to home and business owners in New Hope. Our concrete paving solutions are perfect for:
Walkways
Commercial and residential patios
Steps and stairways
Curbs
Paved porches
Garage floors
Decorative paving
New Hope's Preferred Paving Partner
Whether your commercial or residential property needs pavement repairs, maintenance, or a complete replacement, Richfield Blacktop has you covered. Throughout New Hope, countless residents and business owners choose Richfield Blacktop for our affordability, efficiency, and expertise. Our outstanding customer service specialists can help you find the right concrete or asphalt paving solution for your property and answer any questions you may have along the way. Call us now to consult with a professional so we can get started on providing you with the most exceptional local paving services for your next project in New Hope, Minnesota.