Richfield Blacktop has become a known name in Minnesota's paving industry because of our unparalleled service and assortment of asphalt and concrete services. Since opening our doors, we've worked with countless residential, commercial, and municipal locations laying more than 8.5 million square feet in concrete and asphalt. Minnetonka home and business owners receive paving solutions composed of high-quality materials and lifelong partnerships that continually strengthen each year.
Every customer's expectations matter to the Richfield Blacktop team, and we continually strive to provide the ultimate customer experience. It is not only to cultivate a trusting relationship but also to stand above the competition and provide services you won't find elsewhere. No matter the size or need, each project that comes our way is accepted with open arms. Whether you need installation, paving, or repairs, Richfield Blacktop is here for you every step of the way.
Regardless of project type or your unique needs, the Richfield Blacktop team will work with you side by side, so you receive the finished product you've hoped for. We pride ourselves on building lasting relationships with every customer. Aside from our industry-leading service, you'll be updated regularly with all project movement – so you're never left with uncertainty.
Our Services
Residential, commercial, and municipal customers are important to us, which is why we offer an assortment of remarkable services suitable for every project need. If you need a reliable Minnetonka paving contractor, the team at Richfield Blacktop guarantees we have a paving service that not only meets but exceeds your project requirements.
Asphalt and concrete driveway replacement
Concrete sidewalk, step, and garage floor installments
Decorative exposed aggregate concrete
Parking lot pavement projects
Commercial pavement services
Minnetonka Asphalt Driveway Paving
Do you own a large truck or trailer that you're afraid will damage your driveway? Your worries stop here. Asphalt material is incredibly flexible, which allows it to adjust quickly to sudden pressure and movement. Varying Minnesota temperatures and unpredictable weather can damage pavement materials, but asphalt is designed to withstand these scenarios and deicing chemicals. By choosing asphalt for your Minnetonka home or business, you'll gain numerous benefits.
Throughout Minnesota, many property owners have pegged asphalt as the bargain material because of the suspicion that low-quality materials are utilized in composition. However, this is not the case. Asphalt material rarely gives property owners issues, making it an affordable and reliable driveway paving solution that Richfield Blacktop stands behind.
Minnetonka Concrete Driveway Paving
Besides concrete material's higher pricing, the Richfield Blacktop paving experts guarantee that choosing concrete will increase your residential or commercial property value. Minnetonka residents are encouraged to select concrete material for their driveways because of its ability to enhance curb appeal and impressive lifespan.
Guests and passersby visiting your property see your driveway almost immediately, making it a pivotal component of your home or business. Here at Richfield Blacktop, customers have access to various aggregate finishes, colors, styles, and stamping, so a breathtaking finished product can be created property owners will love for years to come. Complement your Minnetonka home or business with an eye-catching concrete driveway from Richfield Blacktop.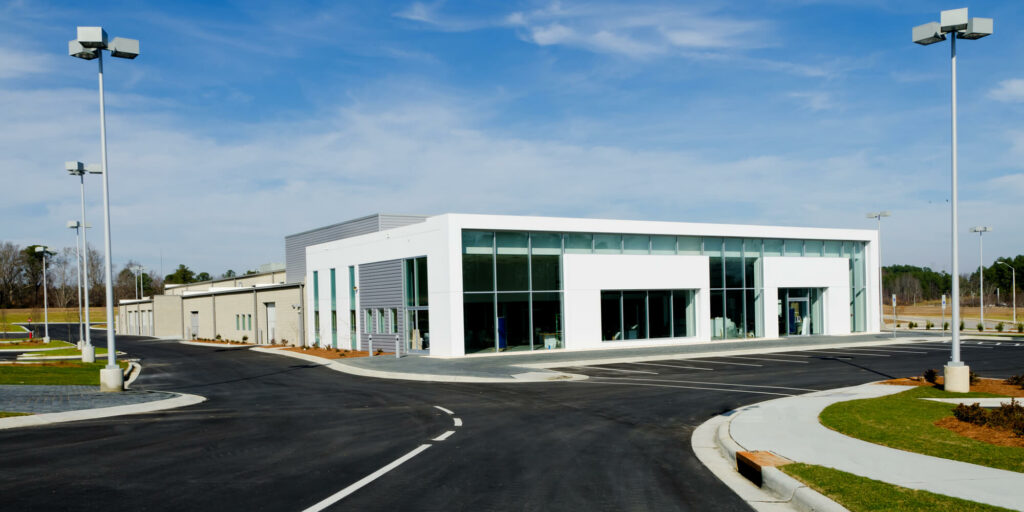 Minnetonka Commercial Asphalt Services
Commercial property owners throughout Minnetonka need a commercial asphalt paving company they can count on. The team at Richfield Blacktop offers detailed asphalt installations, replacements, and repairs. With every Minnesota commercial customer, we focus on cultivating lasting relationships and providing the ultimate customer experience each time.
Your needs are our priority, meaning we strive to meet and exceed your expectations with an industry-leading finished product every time. Paving projects require extensive attention to detail because every square foot is accounted for. Every customer that chooses Richfield Blacktop is provided with an outstanding finished asphalt or concrete surface. For over sixty years, Richfield Blacktop has completed an assortment of commercial projects throughout the state of Minnesota. Explore why customers from cities across Minnesota continue to choose Richfield Blacktop for their commercial project needs.
Parking lots
Schools
Shopping and retail centers
Apartment complexes and condos
Warehouse truck terminals
Churches
Manufacturing facilities
Office buildings
Does Your Driveway in Minnetonka Need Repairs?
It's likely for your driveway to become damaged, even if repairs and maintenance are completed regularly. By contacting Richfield Blacktop, one of our experienced contractors will visit your property to assess the damage and determine which service is most suitable for your needs. Potholes and cracking can appear on your driveway because of force or regular wear and tear, but they must be repaired quickly. Minnetonka property owners have experienced a range of driveway issues over time:
Cracking
Buckling
Potholes
Low spots where water accumulates
Cold-weather damage
Property owners are encouraged to complete regular driveway inspections so pavement issues can be identified immediately, and repairs can be scheduled before a small problem turns into a much bigger one. Our paving experts have developed a range of affordable pavement solutions that will keep your property looking top-notch, no matter the extent of the damage.
Additional Concrete Services in Minnetonka
Residential, commercial, and municipal properties alike can count on Richfield Blacktop for various services, from full installations to repairs and replacements. However, if you need a concrete service unrelatable to a driveway, we have an assortment of additional concrete services that we guarantee will meet your needs.
Walkways
Commercial and residential patios
Steps and stairways
Curbs
Paved porches
Garage floors
Decorative paving
Your Minnetonka Paving Company
For over sixty years, Richfield Blacktop has provided commercial and residential property owners industry-leading asphalt and concrete paving services. Our remarkable paving experts will help you choose the best paving service for your unique needs, no matter the property size. Here at Richfield Blacktop, we strive to meet every client's need for projects of every type – installations, repairs, and replacements. Customers throughout Minnetonka will experience long-lasting relationships and unparalleled customer service every time by working with Richfield Blacktop. Call us today to discuss the options for your driveway project.