Richfield Blacktop has had the opportunity to work with many residential and commercial properties laying over 8.5 million square feet of asphalt and concrete since opening our doors in 1954. We have worked to establish and continuously evolve our presence throughout Minnesota with our variety of asphalt and concrete services. Commercial and residential owners throughout Golden Valley continually receive dependable paving solutions accompanied by top-notch materials every time in exchange for outstanding relationships that continue to strengthen over time.
At Richfield Blacktop, the expectations of our clients are our primary focus, intending to exceed them every time. We stand out when compared to the competition because we work to accept every project that comes our way. Our excellent service and outstanding team play into this as well. Whether your residential or commercial property needs reestablishment, paving, or installation improvements, Richfield Blacktop assures your every need and request will be addressed. From walkways and patios to infrared asphalt repair — we provide you with expertise that stands above our competitors.
Every customer that we partner with will receive regular updates regarding your paving project via detailed, straightforward communication, so there are never any questionable areas. Richfield Blacktop works hand in hand with every customer to pinpoint project expectations and goals as well as promptly resolve any issues. Creating lifelong relationships with our clients translates our ability to guarantee outstanding asphalt and concrete paving services.
Services
Richfield Blacktop offers an assortment of outstanding services to meet each project's requirements. We provide excellent concrete and asphalt services for commercial and residential owners that need reliable pavement contractors throughout Golden Valley. Richfield Blacktop guarantees we have a paving service that will meet all your project's requirements.
Asphalt and Concrete driveway replacement
Concrete Sidewalk, step, and garage floor installments
Decorative exposed aggregate concrete
Parking lot pavement projects
Commercial pavement services
Golden Valley Asphalt Driveway Paving
Fluctuating temperatures and deicing chemicals have proven to destroy most pavement materials, but asphalt withstands the elements that come with the famous Minnesota winter. Commercial and residential owners that own large trailers or trucks no longer have to worry about damaging their driveway as asphalt's malleable consistency allows for easy adaptation to varying movement and pressure. Asphalt is an excellent solution for commercial and residential properties throughout Golden Valley as it provides property owners with many benefits making this material your first choice for driveway pavement.
The consumer market tends to categorize asphalt as a bargain material due to misinformation regarding the quality of materials utilized in production. Asphalt is an excellent pavement option that gives property owners minimal issues. Richfield Blacktop guarantees each customer will receive reliable, budget-friendly solutions that positively benefit their unique project every time.
Golden Valley Concrete Driveway Paving
Golden Valley residents are encouraged to transition their properties to concrete material as it adds to the curb appeal of your property and acts as an incredibly efficient, long-term solution. While concrete is accompanied by a significant investment when compared to asphalt, Richfield Blacktop guarantees that installing a concrete driveway is a beneficial upgrade for customers as it drastically increases the property value of your commercial or residential property.
Your driveway is the first detail guests see upon arriving at your property. We offer customers a wide variety of colors, aggregate finishes, stamping, and styles to assist in capturing and creating a finished product with outstanding design options unique to the property owner. Upgrade and improve your residential or commercial property with a state-of-the-art driveway from Richfield Blacktop.
Request A Quote!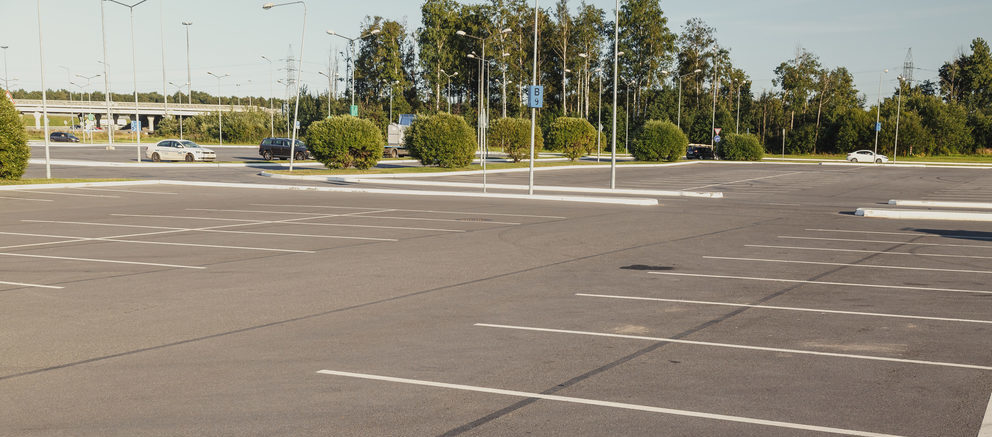 Golden Valley Commercial Asphalt Services
Richfield Blacktop provides complete asphalt installations, repairs, and replacements with the customer's expectations receiving our undivided attention for commercial properties throughout Minnesota. Commercial properties in Golden Valley are encouraged to select Richfield Blacktop as their reliable commercial asphalt paving partner as they'll receive outstanding services and lasting relationships.
Each paving project Richfield Blacktop takes on has unique requirements, meaning every square foot receives our undivided attention. Richfield Blacktop prioritizes creating a result that leaves every customer satisfied. We guarantee every customer will be provided with an excellent finished asphalt or concrete surface. For over six decades, Richfield Blacktop has completed an array of commercial projects throughout Minnesota. Customers from locations statewide repeatedly turn to Richfield Blacktop for their every project need. We have experience in a variety of areas in the commercial project market:
Parking lots
Schools
Shopping and retail centers
Apartment complex and condos
Warehouse and truck terminals
Churches
Manufacturing facilities
Office buildings
Does Your Driveway in Golden Valley Need Repairs?
Driveways are required to have the capability to endure wearing situations regardless of when maintenance and repairs are completed. Richfield Blacktop reviews each project thoroughly to provide a permanent solution that meets your needs and requirements. Buckling and cracking can appear on your driveway, and these obstacles must be fixed immediately. Driveways throughout Golden Valley have overcome an assortment of issues throughout the years, including:
Cracking or buckling
Potholes
Low spots where puddles collect
Winter damage
A routine driveway inspection is required to identify pavement concerns early on, which allows for repair time before they become a more significant issue. Richfield Blacktop offers an assortment of pavement solutions that are feasible options, even if the damage on your driveway seems irreversible. We guarantee our solutions will keep your property looking outstanding.
Additional Concrete Services in Golden Valley
Residential, municipal, and commercial properties that require repairs, full installations, and replacements can rely on Richfield Blacktop. We offer an assortment of concrete services other than driveways, which means you're guaranteed to find a service suitable for your project.
Walkways
Patios
Steps
Curbs
Porches
Garage Floors
Decorative look paving
Your Golden Valley Paving Go-To
For over sixty years, Richfield Blacktop has provided residential and commercial owners with incredible asphalt and concrete paving services. Our outstanding team will assist you in choosing the paving solution that best fits your project, large or small. We strive to meet your every need, whether it's a new installation, replacement, or repair. We provide customers throughout Golden Valley with a memorable experience and lasting relationships. Contact us today about your next driveway project.