Richfield Blacktop has provided paving services for both residential and commercial properties for over half of a century. Throughout the state of Minnesota, we have paved over 8.5 million square feet of concrete and asphalt. We've been the premier paving service for the Twin Cities and surrounding areas like Brooklyn Center. Many residents, business owners, and municipalities have put their faith in Richfield Blacktop.
No matter what type of project we're working on, we take the time to understand our customer's unique needs and challenges. We take great pride in providing long-lasting concrete and asphalt pavements. From driveways, garage floors, and walkways on residential properties to sidewalks or brand new parking lots for commercial buildings — Richfield Blacktop has you covered.
We offer genuine care and transparent communication on every installation. We're constantly looking for new ways to improve our services and exceed expectations. We create both long-lasting pavement solutions and long-lasting relationships with our clients. We take the time to get to know our client's unique challenges, pain-points, and needs. We're all about getting our clientele the results they need, keeping you informed every step of the way.
Services
We offer concrete and asphalt services for both residential and commercial properties throughout the Brooklyn Center area. So, regardless if you're looking for residential or commercial paving services, Richfield Blacktop can find the right solution for your property. Here's a quick look at our premier paving services.
Asphalt and Concrete driveway replacement
Concrete Sidewalk, step, and garage floor installments
Decorative exposed aggregate concrete
Parking lot pavement projects
Commercial pavement services
Brooklyn Center Asphalt Driveway Paving
Asphalt is a perfect solution for the cold and wet Minnesota weather. The durable, long-lasting, and flexible nature of asphalt works well to combat the issues associated with temperant climate conditions. Large trucks often pose an issue for certain paving materials. However, the flexibility of asphalt allows for enough give to deter damage. Asphalt is also dark, which speeds up snow and ice melt.
For eco-friendly homes, asphalt is great because it's recyclable. Perhaps the best component of an asphalt driveway is that it's affordable. We provide a cost-effective asphalt paving, repair, and replacement solution for homes throughout Brooklyn Center.
Brooklyn Center Concrete Driveway Paving
There's a reason why so many homeowners choose to install concrete pavement for their driveways. It's a great way to add incredible curb appeal and value to your property. Concrete lasts a long, long time, and adds to the resale value of a home. While initial costs may be more, concrete pavement is an investment that will come back in droves.
A concrete driveway is a great first impression. As guests arrive at your home, they are greeted by a beautiful pavement that you can make your own. Unique styles, colors, stamping, and aggregate finishes are all an option that you can implement into your concrete driveway. Make your concrete your own with Richfield Blacktop's expert concrete services.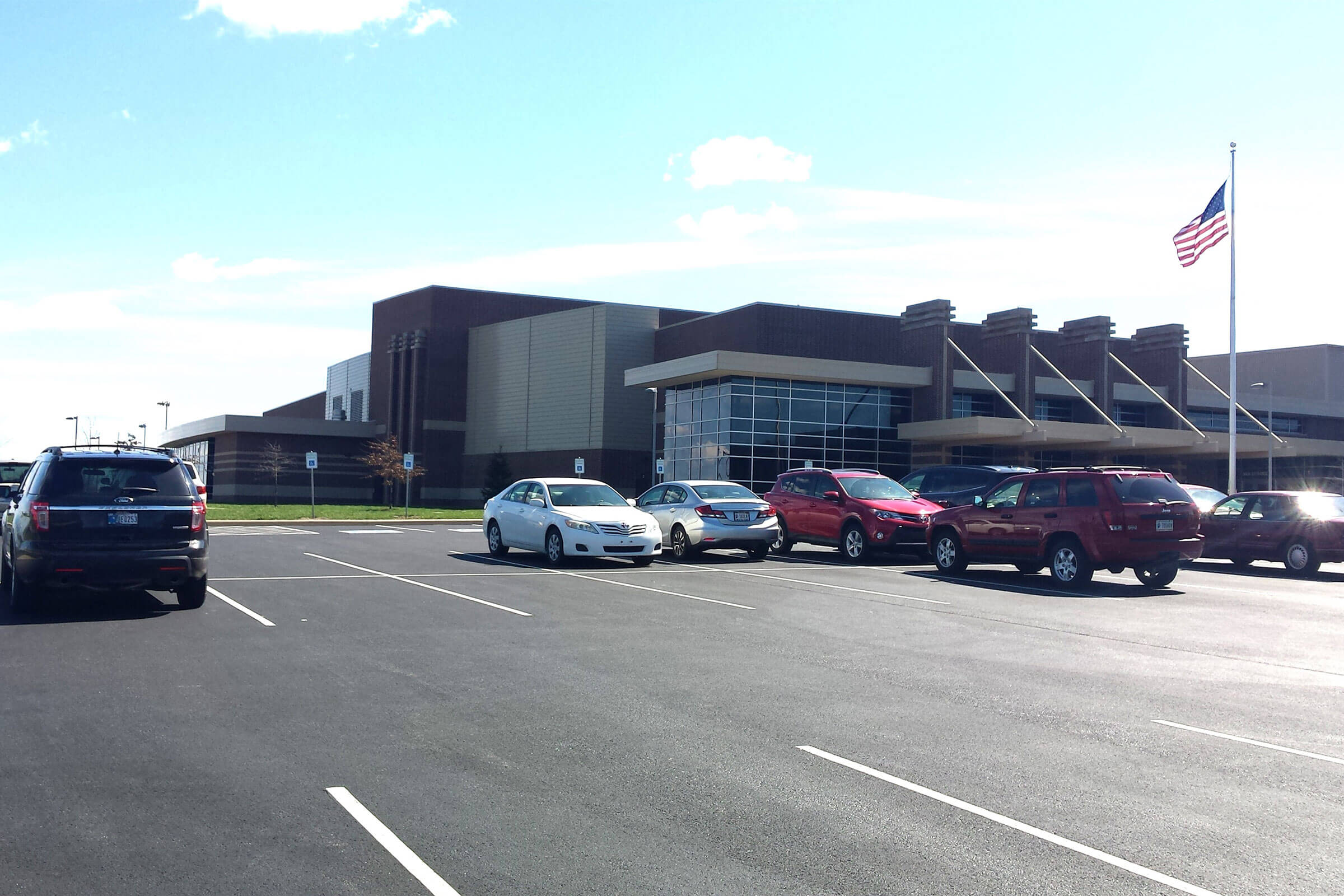 Brooklyn Center Commercial Asphalt Services
We work with both businesses and municipalities throughout the Brooklyn Center area to offer commercial asphalt installations, repairs, and replacements. We create solutions you need regardless of the size or type of project you have. We implement the passion and attention to detail on every service we offer.
For over half of a century, we've paved the way for commercial asphalt services throughout the North Star State. We create innovative, unique, and result-driven solutions for our clients, both big and small. We are always providing top of the line communication and attention to detail on every installation we perform. We've completed a wide variety of projects such as:
Parking lots
Schools
Shopping and retail centers
Apartment complex and condos
Warehouse and truck terminals
Churches
Manufacturing facilities
Office buildings
Does Your Driveway Need Repairs?
If you notice any cracks, pot-holes, or damage on your driveway — it's time to give us a call. We'll take care of your repair or replacement needs to make sure that your driveway is the best it can be.
Cracking or buckling
Pot-holes
Low spots where puddles collect
Winter damage
No matter what type of damage you see, we'll complete expert repairs to return your driveway back to its former glory. If necessary, we'll replace your pavement entirely.
Additional Concrete Services
Driveways aren't the only concrete service we provide. We also complete work on:
Walkways
Patios
Steps
Curbs
Porches
Garage Floors
Decorative look paving
Your Paving Partner In Brooklyn Center
Are you looking for a paving partner for your home or business? We can provide expert asphalt or concrete installations, repairs, and replacements. We take great pride in offering paving services that last, exceeding our client's expectations at every turn. Here at Richfield Blacktop, we would love to help with your paving needs. Contact us today.