For over half of a century, Richfield Blacktop has been the number one paver in the Twin Cities. We provide residential and commercial concrete and asphalt paving services to the greater metropolitan area, such as Bloomington. Since the 50s, we have laid over 8.5 million square feet of concrete and asphalt in the North Star State. Homeowners and businesses alike have put their trust in the Richfield Blacktop name because we take great care in what we do. 
We've led the way for premium paving with long-lasting and expertly installed concrete and asphalt services. Whether your home needs a driveway, walkway, or garage floor — or your commercial property needs sidewalks or a new parking lot, Richfield Blacktop can help. With masterful communication and care, we make certain that every pavement project we undertake exceeds expectations.
We create not only long-lasting pavement solutions but also long-standing relationships with our clients. We make every attempt to understand client pain points so that we can create the right results for the job. Throughout every step in the paving process, we maintain complete transparency. We believe that an informed client is a better client.
Services
At Richfield Blacktop, we provide concrete and asphalt services for residential and commercial properties. So, whether you're looking for a paving service for your home or business — we have a solution to meet your needs. Take a look at our services to find the long-lasting pavement that works for you. 
Asphalt and Concrete driveway replacement
Concrete Sidewalk, step, and garage floor installments
Decorative exposed aggregate concrete
Parking lot pavement projects
Commercial pavement services
Bloomington Asphalt Driveway Paving
Asphalt provides a great solution for temperant Minnesota weather. Durable, flexible, and long-lasting — asphalt stands up to the cold and deicers. For homes with large trucks, the flexible surface that asphalt provides prevents cracking. The dark color also speeds up ice and snowmelt, which is perfect for Bloomington homes. Asphalt is also recyclable, making it an ideal solution for eco-friendly households. 
The most significant upside to selecting asphalt for your driveway pavement is that it's affordable. It's a cost-effective solution that is easy to repair and handles the cold weather. We provide expert asphalt installation, repairs, and replacements.
Bloomington Concrete Driveway Paving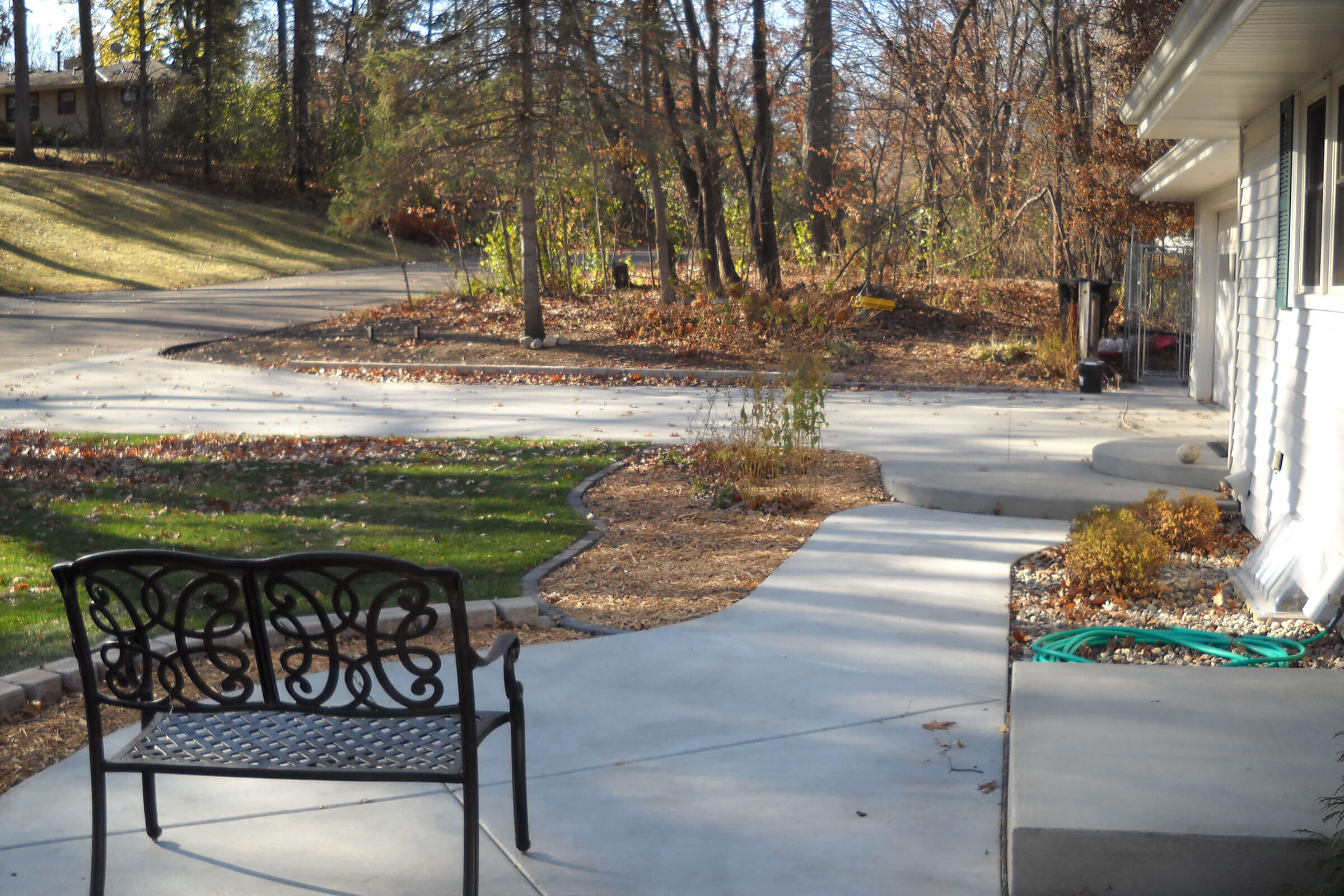 Concrete driveways are popular for a reason. Their beautiful and long-lasting finish adds invaluable curb appeal to your home. While concrete pavement has increased initial cost, it's an investment that will inevitably add value to your property. Not only do concrete driveways last longer, but they will also add resale value to your home. 
Think of your driveway as your home's first impression. It's what welcomes guests and family members to your home. You can choose from various styles, colors, stamping, and aggregate finishes as well. So, you're able to get creative with the various concrete options you have. Make your driveway a beautifully unique first impression with Richfield Blacktop.
Bloomington Commercial Asphalt Services
Throughout Bloomington, we work with businesses and municipalities to provide premium commercial asphalt services. From repairs and replacements to entirely new asphalt pavements, we'll create the solution you need. Regardless of the project size, we'll always give the same great care and attention to detail as we do with all of our service offerings. 
We've paved the way for commercial asphalt services throughout Minnesota. We're always finding the right solution to fit our client's needs. From large scale projects to smaller asphalt paving service jobs, we commit the same values of communication and result-driven work into everything we do. Over the past 60 years, we've worked on projects like:
Parking lots
Schools
Shopping and retail centers
Apartment complex and condos
Warehouse and truck terminals
Churches
Manufacturing facilities
Office buildings
Does Your Driveway Need Repairs?
Do you see cracks or pot-holes in your driveway? If so, it may be time to make some repairs. No matter what type of damage you see, we can help. We'll help you make the right improvements and fixes to restore your driveway to where you want it to be — regardless if you see: 
Cracking or buckling
Pot-holes
Low spots where puddles collect
Winter damage
We'll find the right repair solution regardless of your problem. If the driveway is beyond repair, we'll help you find a replacement solution that will last. 
Additional Concrete Services
We don't only work on driveways. We offer a selection of concrete repair, replacement, and installation services. 
Walkways
Patios
Steps
Curbs
Porches
Garage Floors
Decorative look paving
Your Paving Partner In Bloomington  
Do you need help with your residential or commercial pavement? Regardless if you need simple repairs, a brand new installation, or a replacement for damaged asphalt or concrete pavement — Richfield Blacktop can help. We've made a name for ourselves throughout Minnesota by providing top of the line paving services for homes and businesses. Give us a call today.