Have you noticed pooling water throughout your yard? Maybe you've even seen some added moisture within your basement? These are red flags that stormwater isn't being adequately directed away from your property, leading to potentially costly damage. Although water may not seem like a big deal, it can actually wear away your driveway material, leading to cracks, discoloration, and a worn-out look.
If you see any standing or pooling water, this indicates that there isn't enough effective drainage throughout your driveway system. Even though driveways are built on a slant, you could still need additional help to manage the influx of water you have.
Did you know the answer to your problem could be as simple as adding a decorative drain alongside your paved surfaces? Driveway runoff trenches are an excellent solution for pooling water, and they can work seamlessly within a well-designed concrete or asphalt driveway drainage system. Read on to learn more about them to see if they are a right fit for your property.
What Are Trench Drains?
When rushing water isn't directed away from your foundation, it can slowly erode it over time. Therefore, water needs to be guided down specific pathways, otherwise it will wash away soil, wreak havoc on your paved surfaces, and seep into your home. A trench drain, also known as a channel drain, is a linear surface gutter installed along the driveway to eliminate pooling water above ground. It diverts stormwater swiftly and efficiently away from your home. These trenches will help prevent flooding and other collateral damage by channeling stormwater off your property to a lower point.
It works like your home's gutter system and can be a great addition to help preserve your concrete or asphalt driveway, foundation, and landscaping.
Where to Add a Trench?
While they are commonly added to driveways to help guide water downhill and away from your home, they're versatile enough for other high-traffic areas. Here are some other great places to add a trench to help prevent water damage:
Patios
Walkways
Pool Decks
Gardens
Parking lots
Tennis courts
Runoff Trench Installation
While it's possible to DIY install a channel drain, this is one project best suited for experienced professionals. Not all trench materials are the same, and they can only be a long-term solution if installed correctly.
For this reason, it's best to work with experts who can assess your driveway's current slope and take all necessary measurements to see whether or not improvements are needed. They will then pour concrete for a solid base to withstand the elements. During drain construction, the contractor will regularly check to ensure that water doesn't flow backward on accident.
Incorporate Trench Gates
To prevent trips and unsightly trenches, add a trench gate to your drainage system. They can be made from various materials like plastic or galvanized steel and can be easily removed for regular cleaning. Including a decorative trench gate allows for movement over the gutter while adding a visually appealing design.
Benefits of Driveway Runoff Trenches
There are many benefits to adding driveway runoff trenches to your property. Driveway runoff trenches bring immense value to your property by safeguarding it against the element. Learn more about their many benefits, including:
Reducing soil erosion
Guiding water away from paved surfaces
Protecting your foundation
Effective long-term water removing solution
Easy to maintain
Customizable to your property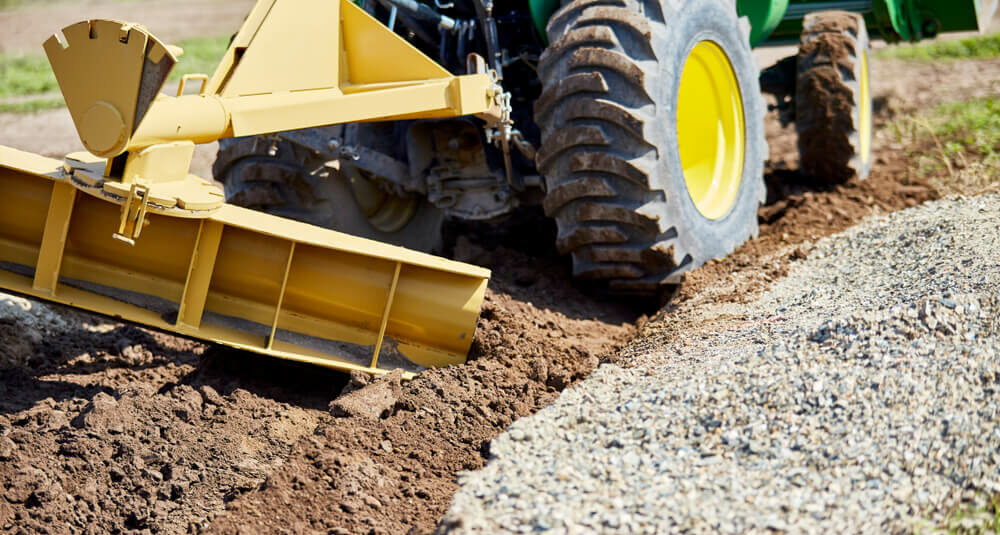 Choosing the Best Material for Your Driveway
A good driveway is much more than a place to park your vehicles. It requires the perfect balance of design and functionality to ensure it withstands the test of time. Maintenance is key to helping a driveway's lifespan, and one area often forgotten is your drainage system. Although your driveway is outside of your home, it can have a significant impact on the inside as well.
Once you've established the need for more driveway drainage, it means that it's time to upgrade to a new driveway system. While you may consider other materials like brick or gravel, these choices often need more maintenance because they wash away easily. Instead, it's best to select from asphalt or concrete for a driveway replacement.
Asphalt
This popular choice won't stain easily, drains well, and is easily repaired. Many Minnesotans choose this material because it melts snow faster and is durable and flexible enough to withstand harsh winters. Plus, if your driveway starts to crack or dip, you can take advantage of infrared asphalt repair to your driveway with ease.
Concrete
This highly sought-after driveway material is durable, long-lasting, and affordable. Compared to other materials, it requires very little maintenance. Additionally, concrete is a reliable resource that doesn't erode and drains well due to its smooth surface, making it a stormwater-friendly solution.
Deciding to add a drainage system wouldn't be complete without ensuring it works with your driveway's pavement. Whether you're considering a total replacement or simply want to improve your stormwater drainage, selecting the right material is only half the solution. You'll also want to include a suitable drainage system to help your driveway. This protective measure will help prevent cracks in the foundation and driveway by moving flowing water away from the landscape.
Upgrade Your Driveway Drainage Today
Have you noticed any excess moisture inside your home? Increased water can add to mold, mildew, and a crumbling foundation. All of these issues could be an indicator that there is pooling water on your driveway. When your driveway doesn't drain properly, that excess water can lead to wear and tear. For this reason, it's best to install driveway runoff trenches to add an incredibly effective drainage solution to your property.
Help protect your home by adding an effective trench to catch stormwater runoff and directed it elsewhere. Adding driveway drainage is a simple and effective way to do this. Whether you choose a concrete or asphalt driveway, you should still work with your trusted contractor to install a trench alongside it to increase protection for your home. These long-term solutions will help safeguard your home against the elements – inside and out – for years to come.