Making a good first impression on potential customers is crucial for any commercial business owner. You want to put your best foot forward from the very beginning of your customer's experience, and having a properly installed and paved parking lot can have a huge positive impact.
Commercial parking lot paving can be tricky, and there are a few important and sometimes unexpected factors for property owners to consider when installing a commercial parking lot. We take a closer look at what to expect as a business owner installing a new parking lot below.
The Best Paving Materials for Commercial Parking Lots
You want to supply your customers with a parking lot that's sturdy, stable, and structurally sound. It's never pleasant to experience bumps, cracks, and potholes as you make your way through a parking lot before entering a business, so you want to have the best paving materials possible. A wide variety of establishments across industries utilize commercial paved parking lots, including:
Shopping centers
Restaurants
Grocery stores
Malls
Airports
Churches
Schools and universities
Office buildings
Warehouses and manufacturing facilities
Make an excellent first impression with either asphalt or concrete parking lot pavement. Both of these paving materials are durable and long-lasting solutions for any type of commercial property.
A Few Things to Consider
There are a couple of great options for commercial property owners when it comes to parking lot pavement. Before deciding whether you want asphalt or concrete materials for your parking lot, there are a few things to think about, such as your budget and how much time and energy you're willing to put into parking lot maintenance.
What's Your Budget?
When installing a commercial parking lot on your property, you probably want to sit down and create a set budget before you begin. The most popular paving materials are asphalt and concrete, but each comes at a different price point. Below, we break down the average cost of a commercial parking lot installation in each paving material according to HomeAdvisor:
Concrete: Ranging from $4-7 per square foot on average
Asphalt: Ranging from $2.50-4.50 per square foot on average
Both asphalt and concrete have incredibly long lifespans with the right maintenance plan. However, asphalt is a more popular choice, especially for property owners operating on a tighter budget.
Make a Maintenance Plan
Commercial parking lot installations aren't a one-time expense that you can stop caring about once you receive the final result. Parking lots require a lot of extra care and maintenance throughout the year to ensure they live out their lifespan. Develop a comprehensive commercial parking lot maintenance plan and course of action for when repairs are necessary with a trusted paving company in your area that can work within your budget.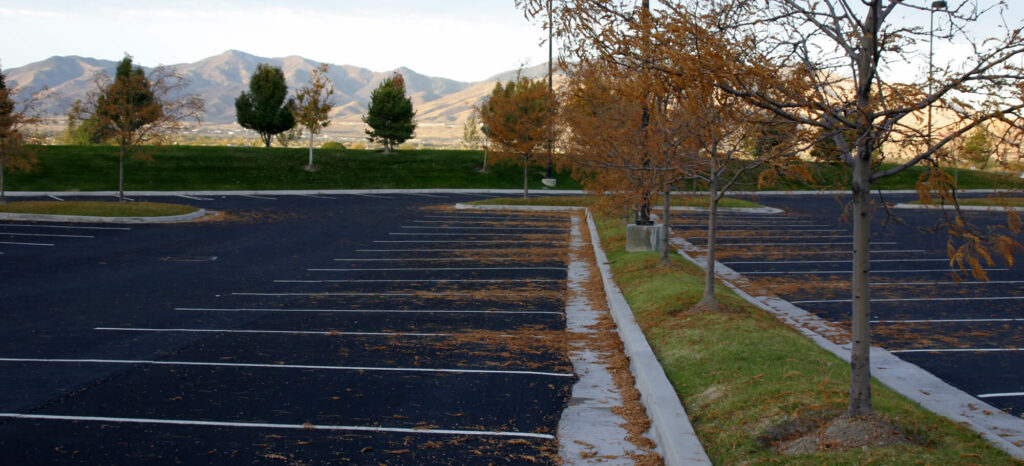 What to Expect From a New Parking Lot Installation for Your Business
Installing a commercial parking lot is a significant investment requiring substantial planning before the project can occur. Although you might think you know the ins and outs of installing a commercial parking lot, there are a few key things that property owners fail to expect. Avoid being blindsided by unexpected issues by remembering the following few factors:
1. Longer Timelines
The first thing that business owners need to understand is that installing a commercial parking lot is no simple task. There are many steps involved in the parking lot paving process, and timelines can look a lot different from those of a simple asphalt driveway installation or pothole patching project.
Business owners should expect a new parking lot installation to take anywhere from two weeks all the way up to a month or more, depending on the size, slope, environment, and other factors affecting the parking lot area. Consult with your chosen paving company, have a paving expert assess your existing space, and see the best implementation process when installing the new commercial parking lot on your property.
2. Extra Costs and Hidden Expenses
Another thing that business owners must keep in mind when planning a commercial parking lot installation is the extra costs and hidden expenses that can come along with the project. Simply installing a paved surface on your property is not enough to allow your customers to start utilizing the space. Instead, you also need to consider acquiring and implementing the following:
Painted parking stripes
Painted directional indicators and arrows
Signage including:

Parking rules
Entry/exit
One way signs
Handicap parking indicators
Postage of warnings or fines
Adequate paint and signage are both crucial components of a safe and well-functioning commercial parking lot. On top of these few elements that you may forget about, there are also the added costs of regular maintenance, which is a must for all commercial parking lots, plus the possibility of repairs.
3. Regular Maintenance Is a Must
The last thing that always seems to slip property owners' minds is the maintenance that comes with owning a commercial property. Commercial parking lot maintenance is no less important than taking care of all the other aspects of your property or business. Ensure that you work closely with a trusted commercial paving partner to come up with a comprehensive maintenance plan that makes your parking lot last.
There are several different signs of parking lot breakdown that business owners can expect to experience at some point on their property. When these issues arise, it's essential to deal with them swiftly so the problems don't worsen. With an experienced paving company to help take care of your parking lot, you can keep the following pavement problems to a minimum:
Networks of cracks
Uneven pavement
Faded paint
Potholes
Crumbling pavement
Pooling water
Sunken pavement surfaces
Finding a Trusted Paving Partner
If you're considering installing a commercial parking lot for your business, there are a lot of unexpected factors that some property owners often overlook. Asphalt and concrete can give you a beautiful end result that improves your customers' experiences, but they require regular care and proper planning before installation. With a commercial parking lot installation being such a significant expense, it's essential to find a paving partner you can trust.
Work with an experienced paving company like Richfield Blacktop to receive the best paving services for your commercial business. Whether you choose asphalt or concrete paving materials, seasoned paving professionals can make sure your parking lot is built to last.