Have you ever wondered how hot asphalt gets when paving a driveway or road? The answer may surprise you. Typically, asphalt is between 275 to 325 degrees Fahrenheit. Here are some other questions you might have wondered about asphalt paving:
How is asphalt heated?
How long does it take asphalt to cool?
How hot is asphalt when poured?
How hot is asphalt when paving?
What is the temperature of asphalt when paving?
At Richfield Blacktop, we've got these answers and more for you. In fact, asphalt paving is an interesting process that you should be familiar with if you're looking to repair or maintain your driveway. Even if you're not in any immediate need of driveway repairs, asphalt paving can be an excellent way to enhance your property's curb appeal and increase its value.
Why Asphalt Paving?
When you're looking to repair or install a new driveway, you may wonder whether asphalt or concrete is best for your home. Although, it is important to keep in mind that there are many benefits to using asphalt, such as:
Durability
Longevity
Noise absorption properties
Safety
In addition, asphalt projects can be completed quickly. This may seem counterintuitive, especially when you think of how hot asphalt is when heated, as well as the fact that it needs to cool off for installation and repair purposes. When it does finally cool, asphalt can be incredibly useful for water drainage purposes as well, especially porous asphalt. If you are interested in paving an asphalt driveway, check out our extensive gallery to get some great ideas.
How Asphalt Paving Works for Pavement Installation
Before you can decide whether or not to choose asphalt to pave your driveway, it's alway a good idea to get a sense of how asphalt is used. Asphalt pavement installation has an intensive process that must be followed before it can be heated and poured. If you don't know this process, you can contact one of our experienced contractors at Richfield Blacktop to walk you through installing brand-new asphalt pavement.
First, we remove the existing surface, regardless if it is pavers, concrete, or even asphalt. Then, we use heavy machinery to demolish the old pavement in order to remove and recycle the resulting debris. Next, we prepare the surface for water drainage and grading it by using state-of-the-art equipment. We pay particular attention to detail to this step, because poor grading can result in poor water drainage and ultimately damage to your pavement.
After this, we install a sub-base, which provides a stable and level surface to support your new pavement, and make sure to identify and repair any soft areas in your sub-base before taking any further steps, because the sub-base is the foundation of a long-lasting pavement after all. Finally, we add a binding layer—a combination of aggregate and oil—that strengthens your pavement. Once these important steps are completed, we'll be ready to add the asphalt. However, our timeline is different for every asphalt installation project and will determine how long it will take to complete.
How Is Asphalt Heated?
Typically, asphalt cement and aggregate are heated and blended together at the same time inside a machine, called a drum-mixer. Sometimes, the asphalt and aggregate are heated first, and then mixed in a chamber called a pugmill. Regardless of the process, the hot asphalt is then placed in storage containers, or on trucks to be taken to paving sites, until it is needed.
How Long Does It Take Asphalt to Cool?
It takes between 6 and 12 months for asphalt pavement to fully harden. To avoid damaging your new asphalt pavement, you should avoid driving on it for three full days after the asphalt has been poured, although you can walk on it almost immediately.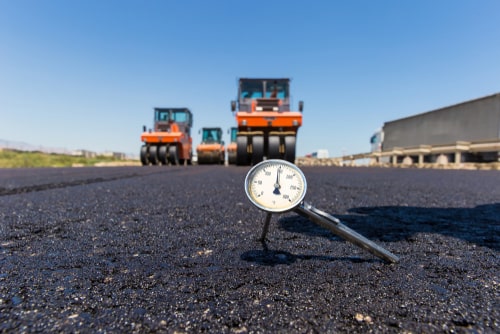 How Hot Is Asphalt When Poured?
Asphalt can reach between 275 and 325 degrees when it arrives at the installation site. It will likely cool a bit during transport and during the paving process, but it will still remain dangerously hot until it has been installed.
What Is the Temperature of Asphalt When Paving?
When it's being paved, asphalt should be a bit cooler than it is when first arriving at the installation site. It is that the asphalt should be between 220 and 290 degrees at the time of paving. If it is cooler than 185 degrees, the asphalt will be unusable for the purposes of paving.
Is Asphalt Pouring the Final Step?
While asphalt pouring is an essential component of installing an asphalt driveway, it is not the final step. Once we finish pouring the asphalt, our trained professionals will need to make sure to connect it to the roadway to the parking lot or driveway, as necessary. Finally, we use a roller truck to smooth and compact the asphalt in place. We wouldn't want small asphalt ridges or rocks to create a bumpy driveway for you. When this last step is completed, we make sure to clean up any debris, remove our equipment, and let you enjoy your new driveway in peace.
What About Asphalt Driveway Repair?
Sometimes, driveway damage is so extensive that you need large sections to be replaced. However, there are several methods that can be used to repair a damaged asphalt driveway. The appropriate method depends on the nature and extent of the damage. In some cases, you may even be able to perform simple repairs yourself.
Despite the overabundance of DIY videos out there, most asphalt driveway repairs are best performed by skilled and experienced contractors. Some forms of damage may seem minor, but they actually mask more serious structural damage that can affect your driveway's stability, as well as your home's foundation.
For small cracks, you may be able to use a patching compound rather than asphalt, But it's important to be able to distinguish the difference between a minor cosmetic defect and a crack that's become a water drainage problem. Some home improvement magazines and videos even provide tips for you to create your own asphalt driveway, and there are companies that rent out the equipment for this very thing.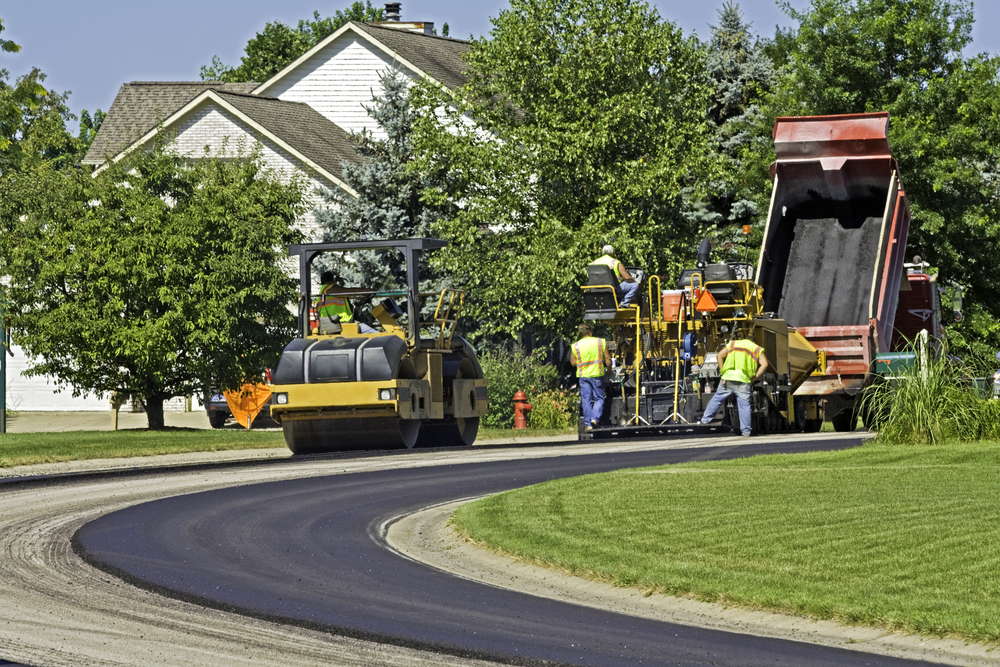 Paving an Asphalt Driveway
Whether you need simple maintenance, minor repairs, or a major installation, our experienced and skilled contractors are the best asphalt pavers in Minnesota. We tackle every job, residential or commercial, with keen attention to craftsmanship, high-quality materials, and top-notch customer service.
Contact us today if you have an asphalt paving project you're planning or considering. We're here to answer your questions and help get you started on the road to a perfect asphalt driveway, pavement, or roadway.