Tailgating might make fall the most enjoyable of the four seasons. There's something about cohesive drinking, eating, and laughing before enjoying a game of football that makes the world go round. Even if you're not looking to head to a professional stadium parking lot to crack open a Bud Light or grill a burger, who's to say you can't throw a tailgating party with neighbors and friends on your own driveway?
Checklist:
A driveway you're not embarrassed by
Music
A grill
Grill basket
Grill utensils
Great recipes (or even stick to peanuts, popcorn, and hot dogs).
We suggest:
Folding chairs
Folding tables
Cooler
Drinks
Lawn Games
Napkins, plates, utensils, etc.
Got it all? Next steps:
1. Be sure to deck yourself out in your designated team's jerseys/colors. This is not the time to underachieve or be embarrassed – going all out is key. Face paint is encouraged.
2. Unpack folding chairs so everyone can hang out while the grilling's happening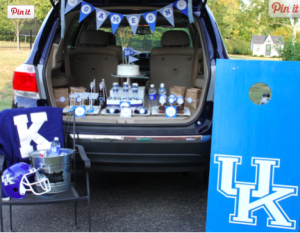 3. Set up the grill a safe distance away from the back of your car (trucks with tail beds are obviously useful). Use the trunk or back of the tail bed as the drink station. And as means to decorate. Use your teams colors and go for it! If you ask us, these University of Kentucky fans did it right.
4. Get the BBQ grill, charcoal, lighter fluid, and spatula ready to go. (If you're a diehard fan we're pretty sure helmet grills with team logos are a thing.)
5. Set up the portable radio – get those tunes goin'! No pressure, but a tailgating soundtrack can make or break the event. ACDC, Van Halen, and Led Zepplin are usually shoo-ins.
6. Inflatable game of football for the kids? Sure why not.
7. Have a BLAST! (Safely, of course.)